Health agency urged to take action to get more shots in arms
October 09, 2021, 12:02 [GMT+7]
Da Nang People's Committee Vice Chairwoman Ngo Thi Kim Yen on Friday afternoon urged the health agency to continue to work with district authorities to accelerate the vaccine rollout across the city with a focus on getting shots into unvaccinated people's arms in order to achieve high vaccination coverage citywide.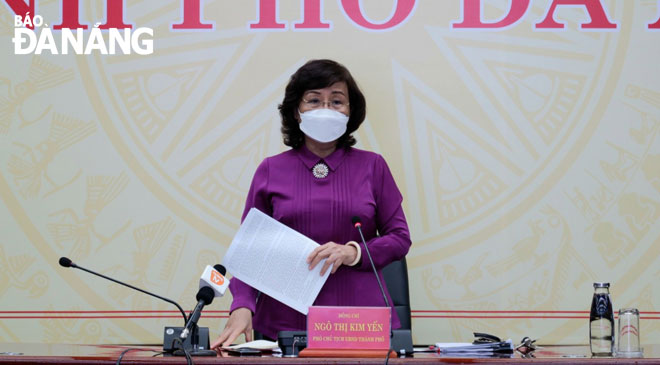 Vice Chairwoman Yen chaired the regular meeting of the municipal Steering Committee for COVID-19 Prevention and Control on Friday afternoon. Photo: PHAN CHUNG
The very good news is there were no new cases in the city on Friday, October 8, while the number of patients who are being treated for COVID-19 in hospitals has till date decreased to 74, said Vice Chairman Yen.
The Da Nang leader directed the Da Nang General Hospital to organise training courses on the three-tiered COVID-19 treatment model under the guidance of the Ministry of Health with the aim to reduce the number of critically ill patients and death rates caused by late access to treatment. The first tier offers primary medical support to COVID-19 patients, the next one offers treatment to COVID-19 patients with risk factors such as comorbid conditions and others who are the elderly and pregnant women, while the last one specializes in treating severely-ill patients who require intensive care and medical intervention.
Mrs Yen underlined the importance of such training in skills needed by healthcare workers in an attempt to provide effective treatment for COVID-19 patients and reduce mortality rates. She remarked that for all of these, thorough preparation is critical to help Da Nang better cope with a potential resurgence in COVID-19 cases in line with the guidance of Viet Nam's National Steering Committee for COVID-19 Prevention and Control.
The health agency was asked to give advice to the municipal government to issue the guidelines for home isolation of primary close contacts in the new normal amid COVID-19.
Mrs Yen said that Da Nang is the closest to meeting all the criteria, meeting four of the five benchmarks related to coronavirus as stipulated in the Ministry of Health's Directive dated August 18, 2021. Included are continuous decrease in daily new COVID-19 cases through RT-PCR testing done in community in the past 14 days, no new clusters or chains of transmission reported for 7 days, at least 50% drop in the number of districts and communes at risk to very high risk for COVID-19, and at least 30% rise in COVID-19 free zones or green zones.
Vice Chairwoman remarked that Da Nang targets to see continued decline in weekly new locally transmitted COVID-19 cases compared to the previous 2 weeks, and at least a 50% reduction in weekly new cases compared to the week that the peak of the city's current outbreak reached.
Currently, only 3 locations involving 78 families with 301 people in total in Binh Thuan and Thuan Phuoc wards, both in Hai Chau District, and An Khe Ward in Thanh Khe District are being placed under full lockdown after COVID-19 cases have been detected.
Reporting by PHAN CHUNG – Translating by H.L
.