More restrictions in Da Nang to be removed from Oct.16
October 15, 2021, 11:01 [GMT+7]
Da Nang People's Committee Vice Chairwoman Ngo Thi Kim Yen in late afternoon of October 14 announced lifting of additional restrictions in the city from 0am, tomorrow, October 16.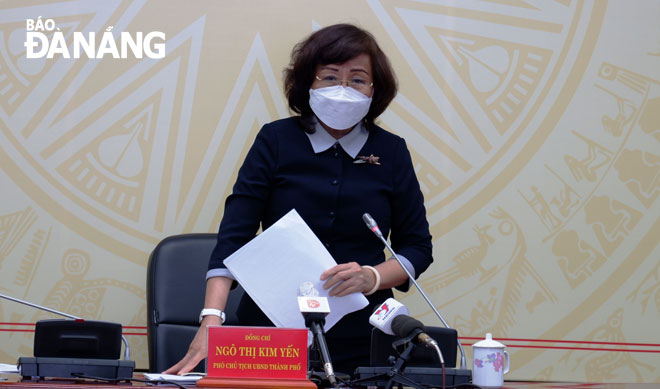 Vice Chairwoman Yen announced lifting of more restrictions at the regular meeting of the municipal Steering Committee for COVID-19 Prevention and Control on October 14. Photo: PHAN CHUNG
Da Nang will reopen more activities and services at alert level 2 with a low risk of community transmission in line with the Resolution 128 issued by Viet Nam's national government, Mrs Yen emphasized.
Da Nang has recorded no new community cases of COVID-19 for 14 straight days. There are currently no areas in Da Nang that are under local lockdown restrictions. Therefore, the city will adopt new approaches for the new situation.
At alert level 2, restrictions on coffee shops, restaurants and more activities will be removed with capacity limits. Drinking and eating establishments will be allowed to resume indoor seating but will be required to operate at 50% capacity with proper precautions in place. In addition, owners of these venues and customers must follow the COVID-19 prevention guidelines to protect themselves and others.
However, bans on such non-essential services as beauty salons, karaoke bars, massage parlors, and night clubs remain in effect.
Vice Chairwoman Yen highlighted the need to enhance surveillance of arrivals and returnees from COVID-19 affected areas and keep a close watch on quarantined citizens in a bid to prevent the spread of the virus.
RT-PCR testing is compulsory for people who have completed their mandatory period before leaving designated facilities.
According to the municipal Steering Committee for COVID-19 Prevention and Control, pupils from primary to senior high schools in Hoa Bac Commune, Hoa Vang District will return to classroom learning first from October 18, twelfth-grade students from the Le Quy Don Senior High School for the Gifted will go back into the classroom from October 25, and the remaining schools in Da Nang will welcome back their students from November 1.
Reporting by PHAN CHUNG –Translating by H.L
.