. "Zero-dong rides" help transport local COVID-19 cases in remote land
November 29, 2021, 18:14 [GMT+7]
"Zero-dong rides" organized by Mr Nguyen Binh Nam, residing in Hai Chau No. 1 Ward, Hai Chau District, Chairman of the Friendship Club, started in October 2021 to bring workers in the southern provinces go back to their hometowns. After more than half a month with 19 trips to bring nearly 600 people back safely, Mr Binh Nam decided to redirect his support to transport local COVID-19 cases in Nam Tra My mountainous district in Quang Nam Province after this locality discovered loads of community cases.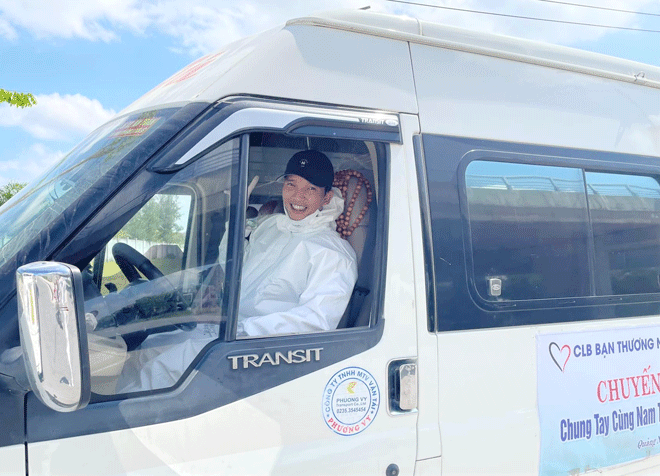 Mr Le Huy Phuong, Principal of Tra Tap Primary School for Ethnic Minorities Semi-boarding School, Nam Tra My District, take a ride to transfer COVID-19 cases. Photo courtesy by the Friendship Club.
1. Nam Tra My District is known as the poorest and most remote mountainous district of Quang Nam Province with many shortages and difficulties. People's lives here became even more arduous when the pandemic broke out. Therefore, "Zero-dong rides" organized by Mr Binh Nam to transport COVID-19 patients at the tough time were absolutely meaningful.
He had rented two 16-seat cars with 2 drivers and "plugged" in Nam Tra My district to hit the road to bring all confirmed cases to the hospital at any time. Every day, drivers receive information related to patients from the district-based Health Center and quickly transport them to Pham Ngoc Thach Hospital and Quang Nam Traditional Medicine Hospital for COVID-19 treatment.
To ensure safety for each trip, drivers and COVID-19 patients must wear full protective clothing before boarding. After transferring the patient to the hospital, both the driver and the vehicle were carefully disinfected before continuing their meaningful journeys.
2. Due to personal reasons, one of the two drivers hired by the Friend Club suddenly took leave. While Mr Binh Nam was struggling to find a replacement, he received a phone call begging to take the wheel of Mr Le Huy Phuong, Principal of Tra Tap Primary School for Ethnic Minorities Semi-boarding School, Nam Tra My District. At first, he did not agree since he was afraid that the quarantine period after the pandemic would affect Mr Phuong's job. However, Mr Phuong's intense desire to participate in the mission had made Mr Nam agree to hand over the car to him to promptly transport COVID-19 cases.

Although his first ride carrying 13 patients of Mr Phuong on a rainy and windy day crossed the road more than 100km from the district centre to the hospital encountered tons of difficulties, the worry of how to transfer students who confirmed with COVID-19 to the hospital in the fastest and safest way for timely treatment helps teacher Phuong strengthen his steering wheel.
As shared by him, on the first day of taking the children out of Nam Tra My to the hospital, both parents and teachers could not feel at ease because most of the children are too little to being away from home alone for the first time plus psychological instability due to COVID-19 infection. Aside from that, the long and winding road made them get car sick and tired. Therefore, teacher Phuong constantly encouraged and comforted the children, in tandem with maintaining contact to support them when needed
The "Zero-dong rides" taking students and residents for receiving treatment had continuously been driven by a special driver every day at that time. Although he had to work hard under high intensity even he has to send his children to his parents' house to avoid close contact, being able to personally take the students for treatment had made Mr Phuong have some peace of mind.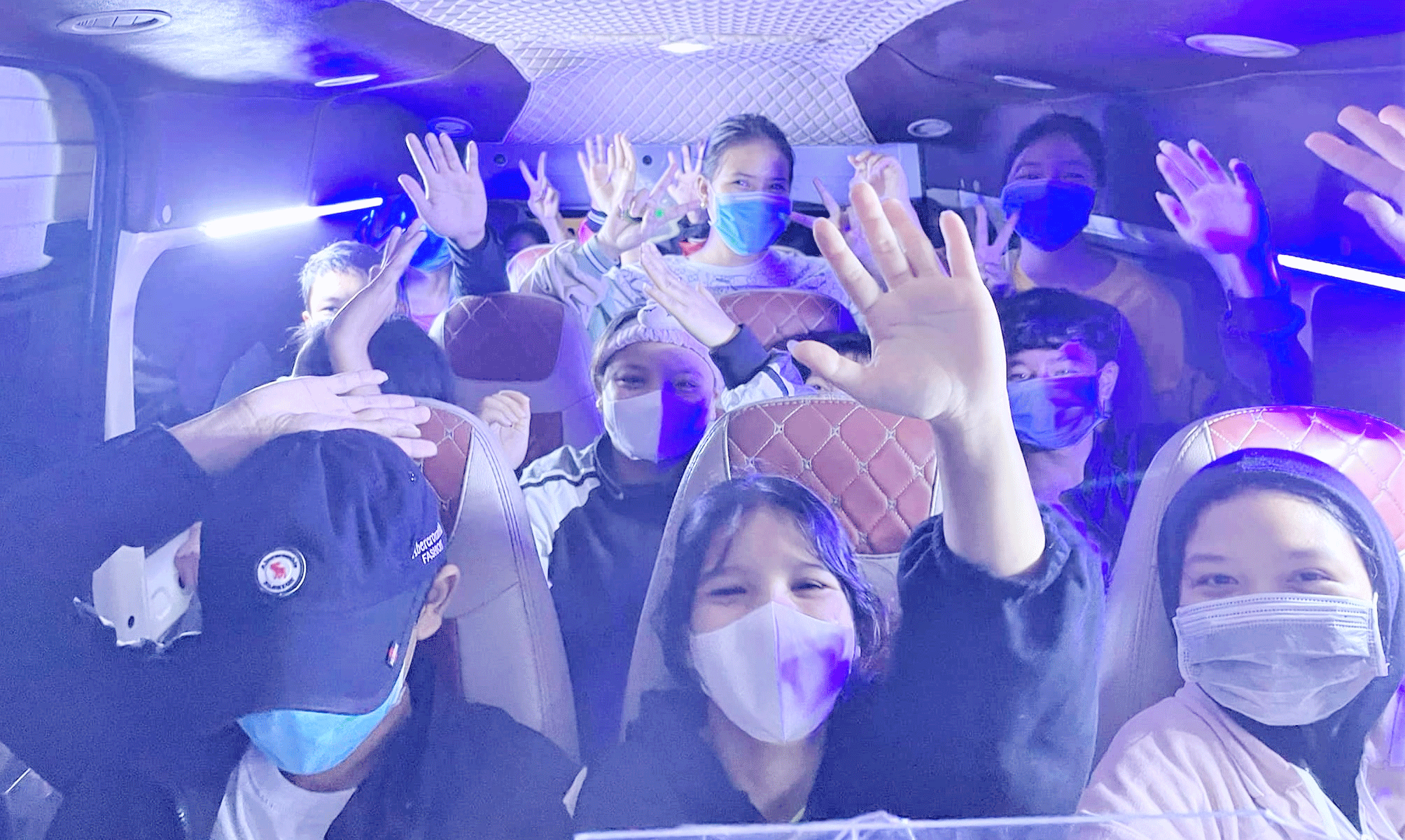 The happiness after being treated from COVID-19 and discharged from the hospital of mountainous students on a "Zero-dong ride". Photo courtesy by the Friendship Club.
3. From Nam Tra My District to Tam Ky City, there is only a single path running along the winding mountainside. On rainy days, this road often landslides, which is very dangerous. Therefore, every safe ride is a great happiness for Mr Nam as well as the two drivers. During the past 18 days, while taking patients for treatment and picking up those who have recovered to transport them back home, the "Zero-dong rides" had been rolling regularly to accompany the people of Nam Tra My District amid tough days fighting the pandemic. Receiving thanks from students and people recovering from the disease waving goodbye before going home and the smiles hidden behind the tight masks, it seems that all the fatigue and hardships of Mr Nam and the drivers seem to disappear.
In recent days, the pandemic situation in Nam Tra My district has been under control with the decrease in the number of COVID-19 cases. On his personal Facebook, Mr Binh Nam posted a line announcing that "Zero-dong rides" was temporarily suspended. Apart from that, teacher Phuong also returned to be a teacher who sowed words every day in the mountainous area. This is the joy and longing of Mr Binh Nam, Mr Phuong and all the people in the mountainous region of Nam Tra My District.
From October 28 to November 21, 2021, the Friendship Club organized 46 "Zero-dong rides" transporting more than 240 confirmed cases, bringing 330 people discharged from hospitals to home and dozens of other cases. The club also campaigned and donated nearly 900 protective clothes to two COVID-19 patient's treatment facilities, Pham Ngoc Thach Hospital and Traditional Medicine Hospital in Quang Nam Province. The total cost of the program is more than VND 94 million.
Reporting by LAM PHUONG- Translating by T.VY
.