Da Nang leader urges tracers to conduct thorough contact tracing to curb COVID-19
November 23, 2021, 11:53 [GMT+7]
In her remarks at a meeting of the Da Nang Steering Committee for COVID-19 Prevention and Control held late on Monday, municipal People's Committee Ngo Thi Kim Yen stated that Da Nang has seen a rise in daily cases of COVID-19 in the community over recent days, of which, some were identified in local industrial parks.
Mrs Yen said that many primary close contacts have tested positive for the virus as all contacts of each confirmed case have yet to be identified and traced. Hence, she highlighted the need to conduct comprehensive case finding and contact tracing in a bid to quickly isolate and test them to curb the spread of the virus.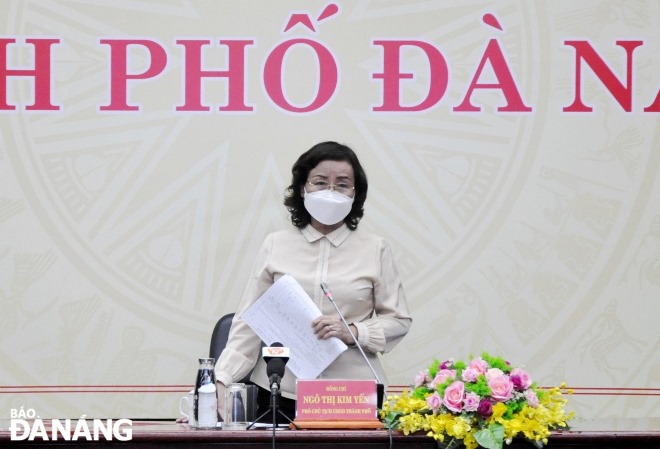 Vice Chairwoman Yen delivered her address at Monday's meeting. Photo: LE HUNG
Vice Chairwoman directed the health agency to roll out COVID-19 vaccination program for students in grades 6 and 7 as soon as possible. The municipal Department of Education and Training was tasked to conduct regular checks on opening schools to make sure that these venues follow recommended COVID-19 safety and health protocols.
Mrs Yen stressed the need for the municipal Department of Health to work closely with the municipal Center for Disease Control and Prevention (CDC) to choose the most convenient location in Da Nang to set up a vaccination site and keep local residents informed about it in an attempt to secure timely access to COVID-19 vaccines for all eligible people across the city to protect themselves.
The Department of Police was instructed to take the most effective measures to tighten controls at entry points in Da Nang in order to prevent the chance of new arrivals from other parts of the country to bring coronavirus into the city.
Mrs Yen remarked that many wards across Da Nang have gone 14 days without COVID-19 infections in the community and they are eligible to become green zones. She, therefore, urged authorities at local level to generate accurate risk assessment in eligible areas to ask for permission from the municipal administration to allow these areas to move into the city's green zone ward-wise list. The intention is to enable appropriate measures to be taken to effectively respond to the pandemic while driving local economic growth.
Doctor Ton That Thanh, the Director of the Da Nang CDC said that 18 additional COVID-19 patients were discharged from the Da Nang Lung Hospital on Monday. There are just 345 remaining active cases of COVID-19, including one requiring critical care, that are being treated in the Lung Hospital and the field hospital in the western part of ​​the city. In which, 20 hospitalized cases tested negative for the virus once while tests on one another came back negative twice.
Doctor Thanh also unveiled that 140,000 doses of the Astrazeneca vaccine and 52,650 doses of the Pfizer vaccine will arrive in Da Nang in the coming time.
Reporting by LE HUNG – translating by H.L
.