Da Nang residents warned against using functional foods of unknown origin to improve post COVID-19 complications
May 22, 2022, 14:22 [GMT+7]
Medical experts have cautioned patients with post-COVID syndrome or Long COVID in Da Nang against the use of functional foods of unknown origin to improve their conditions as there are a range of advertising and promotional activities for such products on social media platforms. The patients are advised to get professional help from local healthcare facilities as well seek professional treatment in these venues.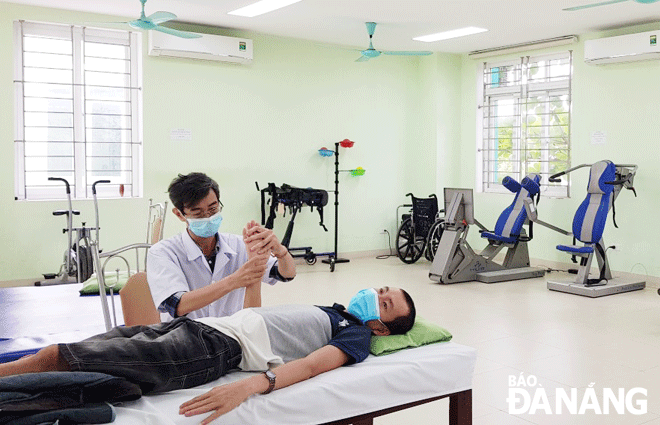 Breathing techniques, general mobility and strengthening exercises will help patients with COVID-19 improve their day-to-day function after recovering from the illness. IN PHOTO: A healthcare professional from the Da Nang Rehabilitation Hospital guiding a patient with post-COVID syndrome to run his own physical therapy practice. Photo: PHAN CHUNG
It's not difficult to find functional foods or medications for long COVID treatment on social media platforms. In order to sell their products, online sellers do not hesitate to exaggerate the benefits of their products. Exaggerations could be seen as a way of making their products look far better than they really are in an attempt to trick people into buying their products. These sellers overstate the benefits of their products when saying that their products help in cleansing the lungs in a natural way after COVID-19, as well as help in treating pulmonary fibrosis and punctured lung in COVID-19 patients, strengthening immune system, regain strength in a week after COVID-19, and more. The price for a box of these products on the internet range from VND 400,000 to VND 900,000 per box depending on their origins.
Besides, functional foods that help in detoxing the lung, protecting the body from air pollution, boosting immune system, and improving lung function after COVID-19 infection are available at some pharmacies across Da Nang, and these products have become the bestsellers. Included are ClearLungs Formula (120 Capsules), made in USA, that is sold at VND 900,000 per box, Kobayashi Japanese lung tonic (80 tablets) at VND 350,000 VND per box, Healthy Care Original Lung Detox (180 tablets), made in Australia, at VND 750,000 VND per box.
The Da Nang General Hospital has set up a post-COVID clinic where patients will be examined by doctors, and they will be required to undergo necessary health tests based on their specific symptoms.
Doctor Nguyen Van Dung, the Deputy Director of the Da Nang Rehabilitation Hospital, remarked that physical therapy is one of the best ways to regain strength after recovering from COVID-19 as it offers a tremendous benefit to those recovering from a COVID-19 diagnosis.
The only way to recover and to get stronger is to walk and exercise "little and often". By engaging in movements that the human body is already used to, you can begin the process of recovery and healing with exercises and movements.
Post COVID-19 condition occurs in individuals with a history of confirmed SARS-CoV-2 infection, usually 3 months from the onset of COVID-19 with symptoms that last for at least 2 months, and cannot be explained by an alternative diagnosis. Common symptoms include fatigue, breathlessness or shortness of breath, difficulty sleeping, persistent cough, joint or muscle pain, not being able to think straight or focus ('brain fog'), headache, depression or anxiety. Symptoms may be new onset, following initial recovery from an acute COVID-19 episode, or persist from the initial illness. Symptoms may also fluctuate or relapse over time.
While there is no diagnostic test for long COVID-19, it is very important to seek medical care if you are experiencing symptoms like this. You should pay attention to how the condition is manifesting for you and whether that is inflammation, headaches, gastrointestinal symptoms, allergic responses, sleep disturbances, and more. From there, you can look for healthcare providers and treatments based on those specific symptoms.
Patients with post-COVID syndrome are strongly advised to not use functional foods or medications without the instructions and indications for accurate and appropriate use of these products from healthcare profesionals. The wrong use of these products will be very dangerous to the patients as it not only costs them money, but also puts their health at risk, said Doctor Dung.
Reporting by PHAN CHUNG – Translating by H.L
.