More prevention tools needed to stop violence among young people
May 24, 2022, 18:05 [GMT+7]
The deeply-concerning situation of conflict resolution by violence among adolescents and young adults in Da Nang has tended to increase over recent times. In fact, just because of minor personal conflicts or confrontations, some young people are ready to join violent skirmishes that lead to human injuries.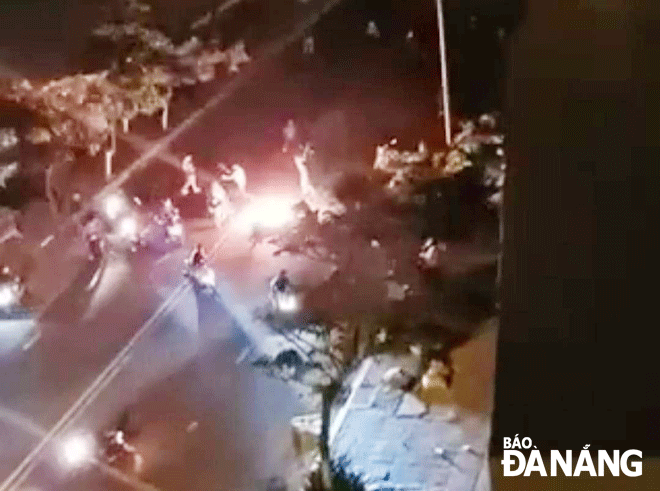 The camera-recorded image of two groups of young people and teenagers joining skirmishes with the use of weapons on Vo Nguyen Giap Street, Son Tra District. Photo: L.H
Recently, Da Nang police forces and other relevant bodies have continuously detected, prevented and arrested many groups of young people and teenagers who gathered to prepare weapons and petrol bombs to resolve conflicts.
According to investigators cited minor conflicts emerging on social networks as the cause of violent behaviour and disorderly gatherings that blight social security.
Most of the offenders do not have a stable job. It is deeply concerning that there were cases involving dozens of people, many of whom were only 13 years old.
Some cases took place openly in public, causing confusion, anxiety and insecurity in the community.
In fact, some parents seem unaware of their children's behaviour until the competent force detects their violation acts.
Psychologists say that one of the reasons that easily lead young people to commit crimes is the lack of attention, sharing, management and education of the family.
In addition, some real-world physical aggressions occur among adolescents and pre-teens who play violent video games.
In addition, the at-school educational environment must also be mentioned.
A current reality is that schools only focus on intellectual education but have not spent adequate time teaching students about life skills. Since then, children easily contract bad habits that later lead to their criminal acts.
According to the Criminal Police Division of the Da Nang Police Department, most of the subjects mostly use social networks for their interpersonal communications and act spontaneously, and many of them are students. This group of subjects usually lacks self-control over their behaviours.
Moreover, the limited living conditions and educational environment also lead to poor behavioral orientations among young people. This, in fact, a profound warning for parents in caring for and educating their children, promoting them not to let their children break the law.
By sharing observations and concerns, parents can also become better informed about their child and can respond and seek out help.
Faced with this issue of deep concerned, the Da Nang Police Department has directed its units to regularly check the number of malnourished children, those who drop out of school, leave home, live in rented accommodations and display signs of drug abuse so that appropriate and effective measures can be taken in time to prevent their potential violations.
Colonel Tran Phong, Deputy Director of the Da Nang Police Department, said that the unit is focusing on maintaining security, order and traffic safety in the city with an increase in the time and frequency of patrolling and inspections of insecurity-prone hotspots to timely detect and strictly handle cases under which teenagers join violence and gatherings for illegal motorbike racing.
For its part, the municipal Department of Education and Training tasks itself with implementing positive educational methods, regularly coordinating with parents to strengthen the management of children, especially promoting at-school psychology counseling.
In addition, heed will be paid to promoting the disseminations of laws in order to raise students' awareness and sense of law observance, especially penalties levied on acts of causing public disorder and intentionally causing injures.
Also, it is very necessary to provide children with many playgrounds, healthy, meaningful and age-appropriate activities, thereby helping students to be fully aware of kindness, sympathy and tolerance.
With the role of taking care and protecting the legitimate rights and interests of young people and children, orienting them to the values of truth, goodness and beauty, the Da Nang Youth Union and its chapters at all levels will strengthen legal education dissemination activities and widely publicise bright examples on good deeds in society.
Reporting by LE HUNG – Translating by A.THU
.