Reducing waste to protect environment
May 22, 2022, 14:22 [GMT+7]
Units and localities across Da Nang have been active in promoting the classification of solid waste at source and reducing the use of plastic waste, aimed at protecting human health and ensuring the living environment in the context of a growing usage of single-use plastic items.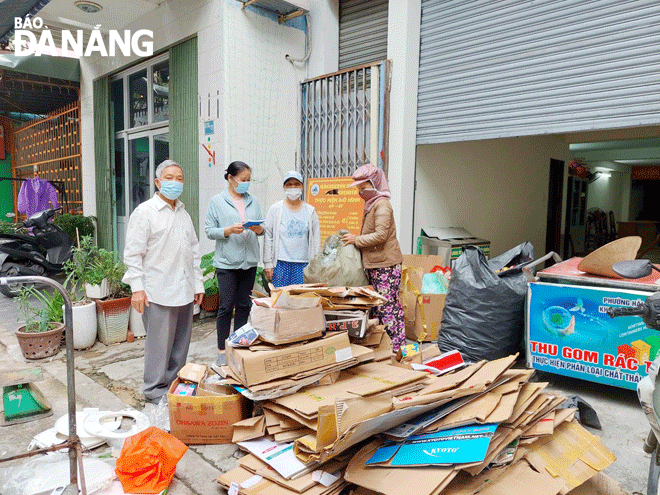 Residential areas in Hai Chau 2 Ward , Hai Chau District, Da Nang, have been recently getting involved in collecting resource waste to promote the movement of at-source waste classification. Photo: HOANG HIEP
Most recently, the People's Committee of Nam Duong Ward in Hai Chau District, its ward chapter of the Da Nang Committee of the Viet Nam Fatherland Front, and the ward chapter of the municipal Women's Union have jointly organised a festival to exchange recyclables for gifts.
The intention of the regular activity is to ensure that 100% of families, schools and medical facilities in the ward get involved in sorting out trash at source.
Also, the ward has organised training courses on the harmful effects of plastic waste for officials and key members of residential areas and more than 100 stallholders in the Nam Duong Market, and some business households on Huynh Thuc Khang specialised breakfast street.
Mrs. Duong Thi Kieu Trinh, Chairwoman of the Women's Union of Nam Duong Ward, said women's union chapters at all levels were actively encouraging women to properly classify solid waste at source and reduce the use of plastic waste. Additionally, they have raised public awareness about the harmful effects of plastic waste on the health of families, residents and visitors.
Currently, the Hai Chau District Department of Natural Resources and Environment is coordinating with ward-level authorities to widely publicise the Law on Environmental Protection 2020 for grassroots officials and residential areas, especially regulations on responsibilities of each individual and family in sorting out waste at source.
Also, regulations on not using single-use plastic products and non-biodegradable plastic packaging after 2025 at commercial centres, supermarkets, hotels and tourist attractions have been widely publicised in the mass media.
Similarly, a host of meaningful activities to raise public awareness about environmental protection have been organised in districts of Thanh Khe, Son Tra, Ngu Hanh Son and Hoa Vang. Included are collecting and exchanging recyclable items for gifts, placing trash cans, giving detailed instructions about at-home waste classification, growing bananas for leaves to pack food, and reducing the use of nylon bags.
Mrs. Nguyen Thi Thu, Head of the Women's Union chapter at An Hai Bac Ward, Son Tra District, remarked more than 70% of women in 5 residential groups in the ward have been involved in sorting out waste at source.
"Since the beginning of 2022, we have collected waste and sold scrap to raise funds for poor women and children in the locality. Most of women are aware of the harmful effects of plastic containers for food and drinking water to their family's health, so they actively participate in reducing the use of plastic items" added she.
Deputy Director of the municipal Department of Natural Resources and Environment Vo Nguyen Chuong assessed that over the past time, agencies, units and businesses in the city have actively raised the sense of responsibility for deploying waste classification at source as well as responding to the movement against plastic waste.
He, however, added that some agencies and units still used disposable plastic bottles in meetings, seminars and conferences.
In order to continue to effectively implement plastic waste management in Da Nang to 2025, the city's Department of Natural Resources and Environment has asked the Department of Tourism, the Department of Industry and Trade, and the district-level authorities to reduce the use of single-use plastic products, and non-degradable plastic bags.
Reporting by HOANG HIEP - Translating by M.DUNG
.