Transfer of treatment techniques to "satellite hospitals" on track
May 24, 2022, 08:49 [GMT+7]
One of the solutions to ease severe patient overload at "core hospitals" in Da Nang with a vision towards 2025 is to improve the professional capacity of district-level medical centres that act as the so-called "satellite hospitals". The implementation of this step promises "dual benefits" when "satellite hospitals" will be properly invested and upgraded, while the severe patient overload are relieved at "core hospitals".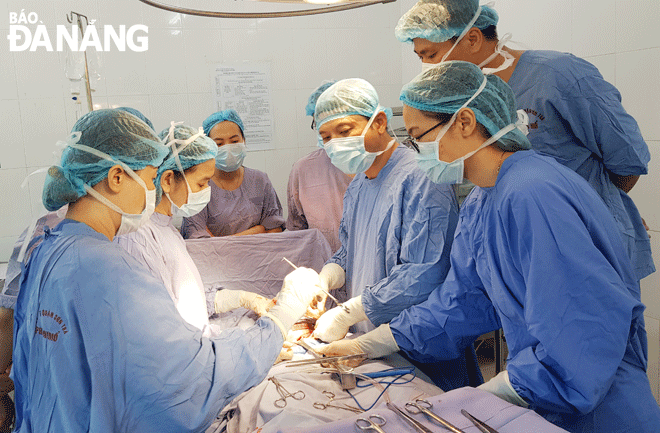 Technology transfer under the Satellite Hospital project helps to reduce the patient overload on upper-level hospitals. Staff of the Son Tra District Medical Centre, a "satellite unit", are seen receiving training on medical technologies from the Da Nang General Hospital, a 'nuclear unit' Photo: PHAN CHUNG
In detail, the "nuclear hospital" conducts the transfer of its medical technique, and sends its medical staff to the "satellite hospital" for professional support, supervises the implementation of the transferred specialist packages and sets up a consultancy team for the satellite units.
In reality, doctors from "core hospitals" provide consultations though telemedicine, meaning patients with complicated conditions were handled right at the district level, thus reducing accident and fatality rates.
On-site training and technique transference strengthens along with after-training supervision in a great effort to transfer modern surgery techniques.
More recently, the Hoa Vang District Medical Centre, one of 'satellite hospitals', has just successfully conducted an anesthetic surgery in gastrointestinal endoscopy for a male patient from Hoa Nhon Commune, Hoa Vang District.
This is one of the techniques transferred from the Da Nang General Hospital, the largest of its kind in Da Nang acting as the "core hospital", under the Satellite Hospital project for the 2019 - 2021 period.
In the past, any patients suffering from digestive diseases in an urgent need of surgery rushed to Hoa Vang District Medical Centre were transferred to the Da Nang General Hospital due to a shortage of equipment, human resources and techniques. This, in fact, caused many difficulties for this district-level medical establishment, as well as wasted much time, posed more danger to patients and resulted in patient overloads first-class hospitals.
Doctor Nguyen Dai Vinh, Director of Hoa Vang District Medical Centre, said that, before 2019 when this technology transfer was not carried out, each year this facility had to transfer more than 220 severely-ill patients to the Da Nang General Hospital
However, thanks to the transfer of the surgical technique of anesthesia in gastrointestinal endoscopy, the number of patients transferred to the "core hospital" decreased to 68 cases in 2020 and then down to 35 in 2021.
It is known that, in addition to the above-mentioned technique, the Satellite Hospital project also helps Hoa Vang District Health Centre to master a number of advantaged techniques such as anesthesia, resuscitation surgery, orthopedic surgery and artificial kidney.
Specifically, in order to ensure the effective transfer of medical technique, the Hoa Vang medical establishment has renovated itself in terms of infrastructure and equipme. Equipment such as RO water treatment system for hemodialysis, heat sterilisation, 10 hemodialysis machines, filter washing system and semi-automatic blood line are being used effectively for treatment.
In a similar vein, the technology transfer plan was also deployed simultaneously at many other district-level healthcare facilities.
At the Son Tra District Medical Centre, Da Nang General Hospital-offered training courses in hysterectomy, laparoscopic surgery, instrumental nursing in laparoscopic surgery, basic gynecology and neonatal skin care skin by the irradiation method has been developed.
Meanwhile, at the Cam Le District Medical Centre, the Da Nang General Hospital organised training courses here on basic combined advanced bone surgery techniques, basic urological laparoscopic surgery, anesthesiology in laparoscopic surgery, auxiliary technicians in laparoscopic surgery.
Doctor Le Duc Nhan, Director of the Da Nang General Hospital said that, depending on the level of complexity, the techniques will be transferred in 3 - 9 months in the form of the on-site transfer method.
As revealed by doctor Tran Thanh Thuy, Deputy Director in charge of the Da Nang Department of Health, the transfer of technology to "satellite hospitals" is one of the main contents of the People's Committee-adopted plan to reduce the patient overload at "core hospitals" in Da Nang by 2025. The network of "satellite units" in the city consists of district-level medical centres.
At the request of the municipal healthcare sector, district-level medical centres shall ensure the quality and quality of human resources participating in practical training and technology transfer, as well as upgrade their facilities and purchase more medical equipment for the sake of on-schedule and effective technology transfer. The Da Nang General Hospital and the Da Nang Maternity and Paediatrics Hospital are two "nuclear units" with the task of strengthening consulting teams, providing professional support, and giving emergency services when needed for "satellite ones" to ensure the safety of patients.
Reporting by PHAN CHUNG – Translating by A.THU
.