Enhancing punishment of traffic violations through infringement images provided by local residents
June 15, 2022, 17:32 [GMT+7]
Data published by the Da Nang Traffic Safety Board shows that since early 2022, Da Nang police have made records of more than 26,000 cases of traffic violations and imposed fines of over VND 27 ,7 billion on violators. In the first quarter of 2022 alone, officers handled 3,614 cases of traffic violations caught by the city's surveillance camera system, issued more than VND 6.14 billion fines while 1,141 vehicle drivers were revoked their driving licences.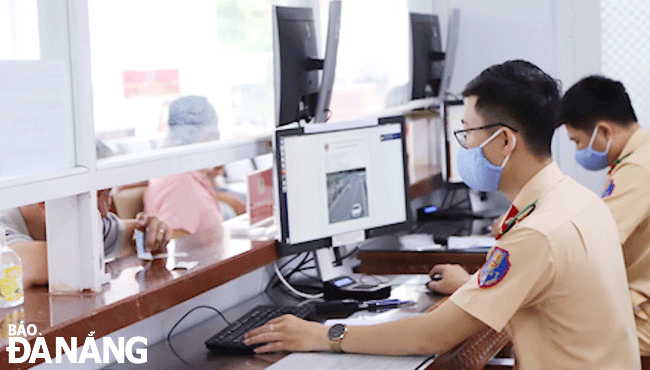 Traffic officers guiding offenders on the procedures for paying fines for breaking the national traffic regulations at the Traffic Police Divison. Photo: THANH LAN
In recent years, traffic violations in the city have become more complicated. Therefore, Da Nang traffic police have taken actions to tackle traffic offences, in which, local residents have been encouraged to send photos or clips of traffic violations to the municipal police's Facebook accounts, namely 'Tuoi tre Cong an thanh pho Da Nang' at https://www.facebook.com/tuoitrecatpdanang, 'Canh sat giao thong Cong an TP Da Nang' at https://www.facebook.com/groups/canhsatgiaothongdanang, and 'Truyen hinh an ninh Da Nang' at https://www.facebook.com/thanninhdanang.
Images and clips sent to these pages are required to clearly show traffic offences that are likely to cause accidents or congestion, affecting people's safety, undermining urban landscape beauty, and triggering concerns among the public.
Whistleblowers are asked to report specific times and locations of such violations to facilitate the police investigations.
In fact, local residents have sent many photos and clips of traffic violations to the the municipal police's fanpages, forcing the violators to admit their offences. As a result, officers have imposed steep penalties for violations of traffic rules.
In particular, a16-year-old boy, a resident of Cam Le District was caught on video riding in a prone position on his motorbike's saddle while travelling on the Hoang Sa Route heading towards the Son Tra Peninsula. After receiving report from local residents, officers quickly conducted a follow-up investigation, and then seized and impounded his vehicle on the spot, as well as issued a penalty notice to him in accordance with the national traffic laws.
Recently, after only a short period of receiving a video capturing a scence of 3 school pupils riding a motorbike without helmets while wiggling around that caused danger to road users, officers invited both these teenagers and vehicle owner to the police station. Administrative penalty was imposed on them who commited their driving offences.
In Da Nang, surveillance cameras have been deployed at traffic signals, placed alongside busy roads or at busy intersections to assist with preventing and investigating traffic violations. Every month, fines have been issued to thousands of traffic violators for their offences caught by surveillance cameras .
As of May 2022, 197 surveillance cameras had been installed across the city while 18 specialized speed-measuring devices and 66 CCTV cameras had been put into use.
Da Nang police continues their efforts to receive evidence of traffic violations on their social media sites in an attempt to raise awareness and get more people involved in road safety, as well as reduce the incidences of road-traffic accidents..
Since late 2016, the Da Nang Traffic Police Division has set up its Facebook channel to receive feedback and opinions from the public about traffic order and safety violations, as well as inadequacies in traffic organization, among other relevant issues.
Reporting by THANH LAN – translating by H.L
.