Acceleration of COVID-19 vaccinations needed to control the pandemic
August 03, 2022, 18:20 [GMT+7]
During a national virtual conference on disease prevention and control held on Tuesday morning, the Ministry of Health highlighted the need for localities across the country and their health sector to take all necessary measures to tackle COVID-19 in the context of complex and unpredictable developments of the COVID-19 pademic. In addition, the Ministry has warned of very high risk from overlapping epidemics in the country.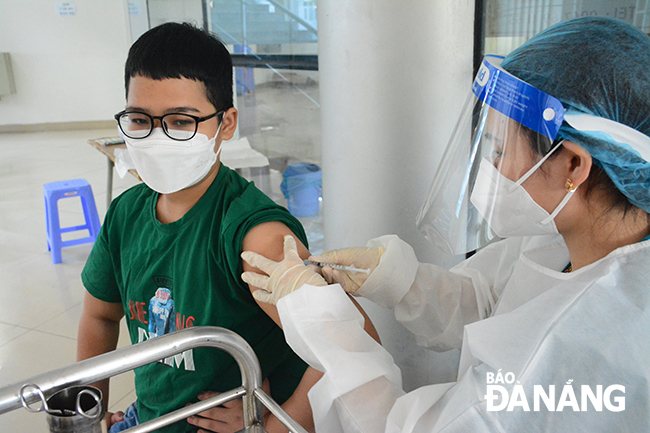 A medical professional giving a COVID-19 vaccine to a school pupil in Hai Chau District. Photo: PHAN CHUNG
Recently, cases of COVID-19 have been surged again in many localities nationwide, due to their ignorance of COVID-19 preventive measures and their slow vaccine rollout.
The pandemic remains complicated and unpredictable
The COVID-19 pandemic is evolving in a complicated and unpredictable manner in the world due to the explosive spread of the latest Omicron variants like BA.4 and BA.5.
In Viet Nam, in the first seven months of this year, more than 9 million cases of COVID-19 were confirmed, accounting for 83.9 per cent of the total caseload. Nearly 11,000 deaths accounting for 0.1 per cent of total infections were reported.
Since late March, Viet Nam has appeared to have greatly slowed its COVID-19 pandemic, and the situation has been basically controlled in localties nationwide, although the sub-variant of Omicron has been detected in the country.
The number of new cases in the past week increased by 48 per cent compared to the previous week, and it is expected that the number of cases will continue to increase in the future.
Health officials are urging caution as new Omicron variants will drive increase in COVID cases nationwide in the coming time. The Ministry of Health stressed the need for localities nationwide to accelerate COVID-19 vaccine deployment as immunity wanes over time and new, more contagious SARS-CoV-2 variants like BA.2.75 and BA.2.12.1 emerge that cause new epidemics.
The national risk from overlapping epidemics is "very high", Acting Minister of Health Dao Hong Lan has warned because apart from the COVID-19 pandemic, diseases such as monkeypox, dengue fever, influenza, and hand, foot and mouth disease are entering their peak season.
Despite the complex developments of the COVID-19 pandemic, the ignorance of preventive measures by local authorities, health agencies and other sectors have been observed in many localities nationwide. This is presenting considerable challenges in the country's effort to contain and control the pandemic.
Mrs Lan underlined the need to speed up vaccinations, particularly third and fourth doses. Children aged 5 to 11 should be given their shots.
There has been a significant increase in infections in Da Nang as 1,615 new cases were registered in July, a 33.6 per cent decrease compared with the previous month. However, 681 new cases were logged in just one week from July 25 to 31, a rise of 50.7 per cent compared with the previous week.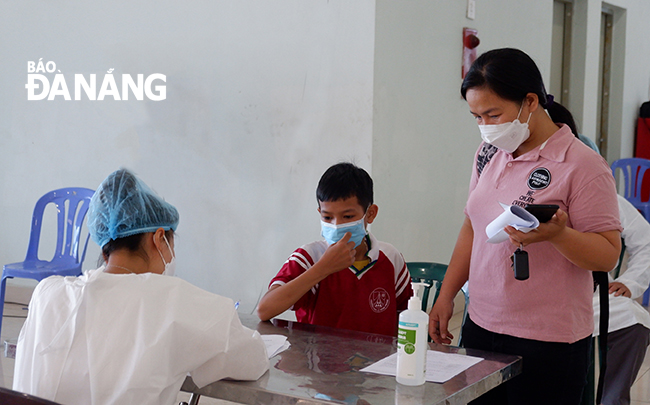 In its efforts to improve effective control of the pandemic, the Da Nang government is urging the health sector to work with local relevant agencies to speed up the rollout of COVID-19 vaccines across the city, with high priority given to giving life-saving jabs to school pupils, and its teaching staff before new academic year starts. Photo: PHAN CHUNG
Boosting vaccinations
Doctor Truong Van Trinh, the Deputy Director of the Da Nang Department of Health, is urging the health sector and relevant local agencies to accelerate the city's coronavirus vaccine booster program in the context of complex developments of the pandemic.
By late July, a combined total of over 2.87 million doses of COVID-19 vaccines had been administered in Da Nang. Rates of first- , second, third-, supplementary dose, first- and second booster coverage in Da Nang reached 99.9 per cent, 99.6 per cent, 83.5 per cent, 73.86 per cent and 12.05 per cent, respectively.
For children and young people aged 12 to 17 years, over 99.9 per cent have received a first dose, 98.8 per cent got a second shot, and 16.04 per cent received boosters.
For children aged 5–11 years, 31.52 per cent of them have received a first dose and 12.7 per cent got second dose. As a result, Da Nang is one of localities with the lowest vaccination rates in Viet Nam for children aged 5–11 years and 12 to 17 years.
The main cause of low vaccination coverage rate is subjective awareness of COVID-19 risk among local residents and ignorance of preventive measures by the general public, including refusing vacinations. Meanwhile, the city's COVID-19 booster programme now only mobilizes eligible people to get their booster doses to protect themselves from new Omicron variants but there is no guidance on appropriate measures to be taken to handle those who refuse vaccinations.
Da Nang People's Committee Vice Chairman Ngo Thi Kim Yen is urging the public and authorities at local level to stay vigilant against COVID-19 and continue to follow COVID-19 guidelines from the national and municipal government in order to keep local residents safe in the new normal as the Omicron-dominated resurgence remains complicated in the country and in the world. Therefore, Mrs Yen called for an acceleration of the booster vaccination program to give local residents the best protection against new omicron variants. High priority should be given to ensuring that all school pupils and teaching staff get their shots before new academic year starts.
Reporting by PHAN CHUNG – Translating by H.L
.