Son Tra Peninsula – one of best places in the city to visit
April 16, 2019, 20:10 [GMT+7]
About 10 km northeast from the centre of Da Nang, the Son Tra Peninsula is dubbed a 'green pearl' in the heart of the city.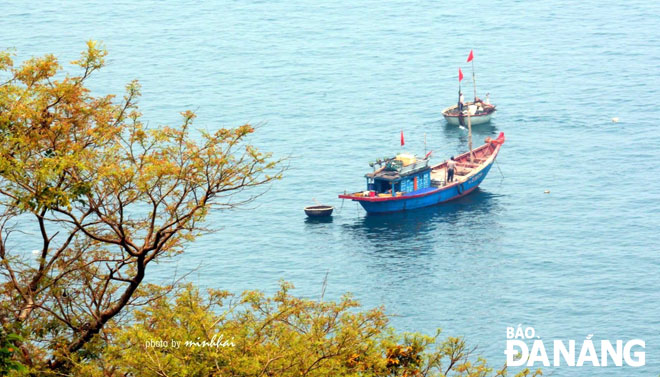 When arriving in the Son Tra Peninsula, visitors can explore the beauty of different types of flowers and blue sea.
Arriving in the peninsula during this season, visitors will have the opportunity to admire the sprawling colours of different types of flowers, including 'Than Mat' (Millettia nigrescens Gagnep), 'Lim Xet' (Peltophorum pterocarpum), and 'Sim' (Rose Myrtle).
Driving slowly along the road leading to the peninsula, visitors can experience the poetic scenery of the city from above, and discover unique beauty of red-shanked douc langurs which are sitting on branches or tree tops, and picking up leaves to eat. Many tourists, especially amateur and professional photographers, take advantage of the poetic space to capture the wonderful moments of nature.
Having a great passion for photography, Mr Nguyen Trung Hieu from Da Nang often spends his free time on visiting the Son Tra Peninsula in order to go sightseeing, relax after a day of hard working, and capture amazing photos of natural landscape and wild animals, especially red-shanked douc langurs and birds.
Mr Tran Anh Quang from Ha Giang Province remarked he was very impressed with the peninsula's beautiful scenery and wonderful fresh air.
"In addition to exploring the beauty of different types of flowers and wild animals, I have a chance to enjoy stunning panoramic views of the city from the peninsula", he added.
The Deputy Head of the Management Board of the Son Tra Peninsula and Da Nang Tourism Beaches, Mr Phan Minh Hai, said during this season the peninsula has welcomed a large number of visitors from both home and abroad.
He, therefore, encouraged locals and visitors not to pick flowers and cut branches when they are in the peninsula, as well as not to feed red-shanked douc langurs because food can have pathogens, which might negatively affect the health and foraging habits of this kind of animals.
Visitors are also encouraged to collect their empty bottles and plastic bags they leave after picnics in a bid to make the peninsula greener, cleaner, and more beautiful.
.