The World Coffee: Ideal rendezvous for whole family
April 15, 2019, 12:34 [GMT+7]
Located at 114 Hoang Hoa Tham, Da Nang, The World Coffee is a quite spacious coffee shop complex well designed for all customers of different age groups, especially for family members who want to enjoy relaxing moments together in a comfortable ambience.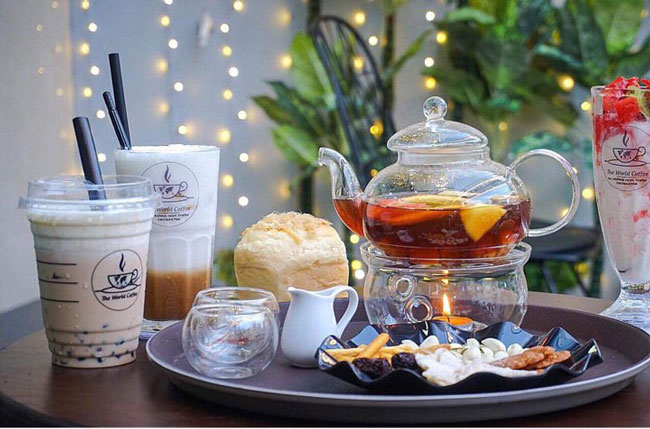 Irresistibly delicious drinks are available at The World Coffee
The coffee shop consists of 4 floors in total, with each featuring a special interior design.
The first floor highlights an open and refreshing space, probably suitable for those who simply want to enjoy coffee whilst watching the seemingly never-ending stream of traffic pass by along the busy street.
The second floor shows off a luxurious and noble style that satisfies the demands of white-collar workers.
The third floor is perhaps the quietest, most private space that usually caters for the young who want to do some work in groups. Many customers show their interest in choosing this floor to organise events, including seminars or book introduction ceremonies.
The fourth floor is the busiest space, offering an ideal rendezvous for the whole family to enjoy relaxing moments at weekends.
The owner of the coffee shop said The World Coffee boasts a wonderful combination of Japanese, American, European, and Indian tribes-style designs.
The coffee shop offers a varied drinks menu to satisfy its guests. In keeping with the highly impressive decor, irresistibly delicious drinks are reasonably priced, only at between 20,000VND and 35,000VND.
Last, but not least, the staff here always show an enthusiastic attitude and friendly behaviour towards their customers.
.