'Quang noodles' –must-try delicacy in soon-to-open Tuy Loan night market
December 23, 2020, 17:25 [GMT+7]
About 15km southwest of Da Nang, the Tuy Loan time-honoured village is located in Hoa Phong Commune, Hoa Vang District. Despite many ups and downs, local residents are proud of the village's culinary values, especially 'mi Quang' (Quang noodles) served with tasty 'banh trang' (rice papers) having risen to fame as one of the city's popular delicacies attractive to both locals and visitors.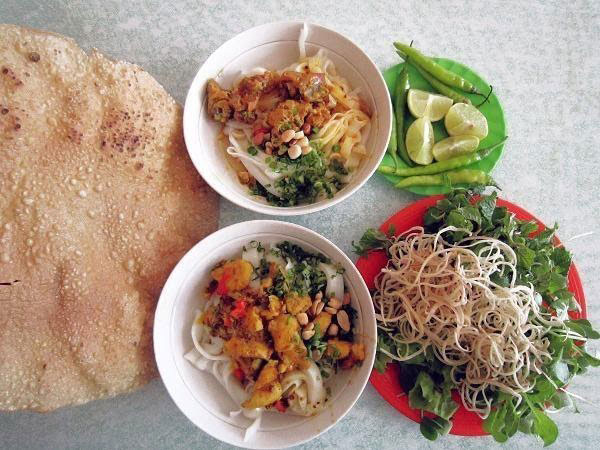 The Tuy Loan Village-made Quang noodles proudly boasts a unique flavour that is highly attractive to visitors from all over the world.
There are now many types of Mi Quang dishes, which can include ingredients such as chicken, pork and shrimps, or more unusual ones such as snakehead fish and eel.
This delicacy is served with a variety of vegetables including salads, thinly sliced banana buds, young cabbage and herbs. Diners can also enjoy this delicious dish accompanied by grilled rice paper, lemons, chillies and pure fish sauce.
In order to make the tasty rice paper, deliciously scented rice from the winter-spring crop is used.
Tuy Loan's rice paper tastes very different from similar products produced elsewhere thanks to its special recipe which includes various spice mixes such as dipping sauce, salt, sugar, garlic and sesame.
Also unlike elsewhere in the country, Tuy Loan's villagers dry their products on charcoal fires instead of drying them in the sun, which prevents any mould formation.
If you visit this village, you will have an unforgettable experience enjoying delicious Quang noodles accompanied by Tuy Loan's baked rice papers.
In the coming time, Quang noodles, rice papers and other 'made-in-Tuy Loan' signature dishes are expected to be on sale at Tuy Loan nighttime market.
The highly promised market, which is scheduled to run from 5.00pm until midnight, is slated to take shape on Quang Xuong Streets near the existing Tuy Loan traditional daytime market.
Under the 1st stage of this project, focus will be on properly setting up stable night business activities along Quang Xuong street, whilst the 2nd stage will see the creation of a pedestrian quarter, which will feature a wide range of shopping, cultural and entertainment services.
Each month, the night market will be filled with bustling and joyful ambiance with an arts performance show in front of the existing Tuy Loan market with the participation of local arts troupes.
According to initial calculations, provided stable trading operations, after deducting all kinds of expenses, each trader touting for business at the night market can earn 300,000 VND - 500,000 VND.
By GIA HUY – Translated by A.T
.