Experience romantic relaxing space at Lavender Coffee
October 29, 2021, 12:16 [GMT+7]
Located on the romantic Han River and separated from the bustling streets by Green Island Villas, Lavender Coffee Shop in Hoa Cuong Bac Ward, Hai Chau District, Da Nang is known as an airy and quiet stop-over bringing peaceful moments for weekends' dating.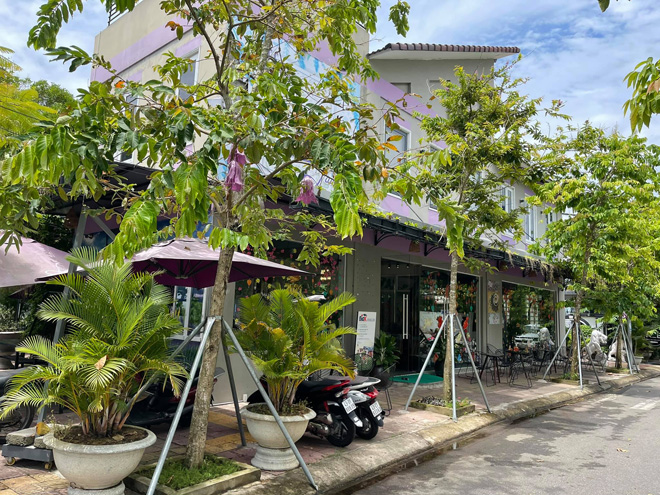 Lavender Coffee serves familiar local dishes for breakfast. (Photo courtesy by Lavender Coffee)
Lavender chooses itself a dreamy purple as the main background, along with vivid motifs of the artistic murals to impress diners. On cold winter days, coming here to enjoy a cup of coffee and immerse yourself in this gently beautiful space will make you calm anxiety in life.
In particular, roasted coffee of Lavender is used from high-quality coffee beans undergoing strict brewing and preservation steps.
Moreover, the preparation of coffee-based drinks here is also carefully prepared in a closed process under the guidance of coffee mixing experts of Trung Nguyen Legend and Phuong Vy Cafe.
Aside from nutritious drinks from fruits, Lavender Café also serves breakfast with familiar Central region's dishes such as Quang noodles, snakehead fish thick rice noodles, beef vermicelli, chicken sticky rice and beefsteak
Lavender coffee shop is even more fantastic with its campus of more than 500m2 and an entertainment area exclusively for children with a promise of the most relaxing moments.
Its spacious car park is also a plus to attract those in need of organizing conferences, seminars, group meetings or birthdays
Furthermore, the evening scene along Han River is more vivid and romantic when nighttime comes in the coffee shop with purple LED pubs lighted on.
It's a good idea to enjoy the entire Tran Thi Ly Bridge and the shimmering and fanciful Sunwheel from a little peaceful corner in Lavender Café.
Although being close to nature with green trees shading all over its space, Lavender coffee shop still retains its luxurious style thanks to its light, sophisticated and modern design. Therefore, it is understandable when its lively, cozy look always attracts guests of all ages who come here to check-in and enjoy tranquil moments in life.
Reporting by DOAN LUONG- Translating by T.VY
.