Nep Café- elegant, nostalgic yet still modern coffee shop
November 30, 2021, 17:38 [GMT+7]
Nestled at 33A/77A Cao Thang Street, Hải Châu district in the heart of Da Nang City and though coming out only in a short time since October 2021, Nep Coffee has been attracting many customers to have a date with family members and friends.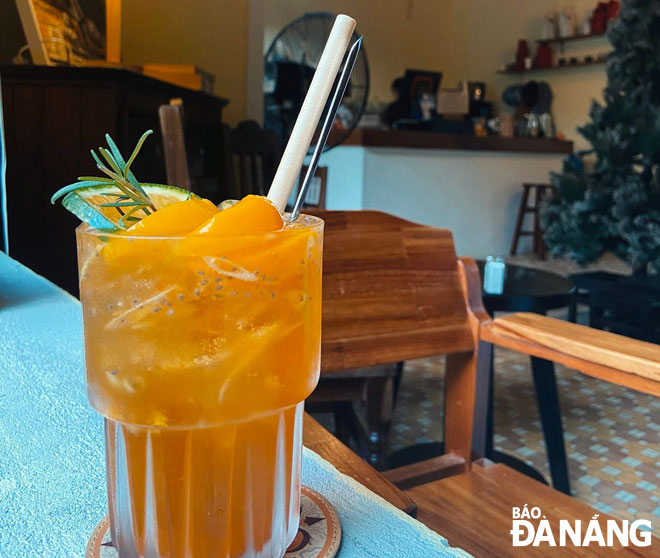 Photo: KHANH QUYEN
The harmonious arrangement of space and design has created many attractive sitting corners for customers despite the limitation in capacity. In front of the veranda, customers can start off the new day with a cup of coffee and sit on arranged chairs, enjoy the airy space, talk with friends while watching vehicles leisurely pass by.
The Nep chooses a charmingly classic style mixed with a bit of modernity, accented by antique coloured tile floors, rustic brown wooden tables and gentle yellow lights as the implication is to bring an idea and new experience for customers. Moreover, there is also a small garden deep in the café.
Nep coffee serves a wide range of delicious drinks such as coffee, juice, tea, milk, yoghurt at reasonably priced from VND 15,000 -35,000. This conscientious coffee shop not only attracts people with these above-mentioned pros but also makes an impression on visitors by putting environmentally friendly measures in place in hopes of combatting climate change. Therefore, it prioritizes using environmentally friendly items such as glass cups, paper cups, paper bags and paper straws. For the time being, Nep coffee operates from 6:00 am to 10:00 pm daily to serve all customers.
Reporting by KHANH QUYEN- Translating by T.VY
.