Thinh– special 'banh mi' shop amid tourist precinct
November 23, 2021, 17:37 [GMT+7]
Thinh- a 'banh mi' shop located at 12 Yen Bai Street, Hai Chau District, Da Nang chooses its way to serve customers by placing a few small tables for them to enjoy its products on the spot. Taking some beautiful photos while enjoying a loaf of bread and a cup of salted coffee is the best choice to start a new day full of energy. The small shop is designed with white tones dotted with green motifs and modern murals making many young people impressed.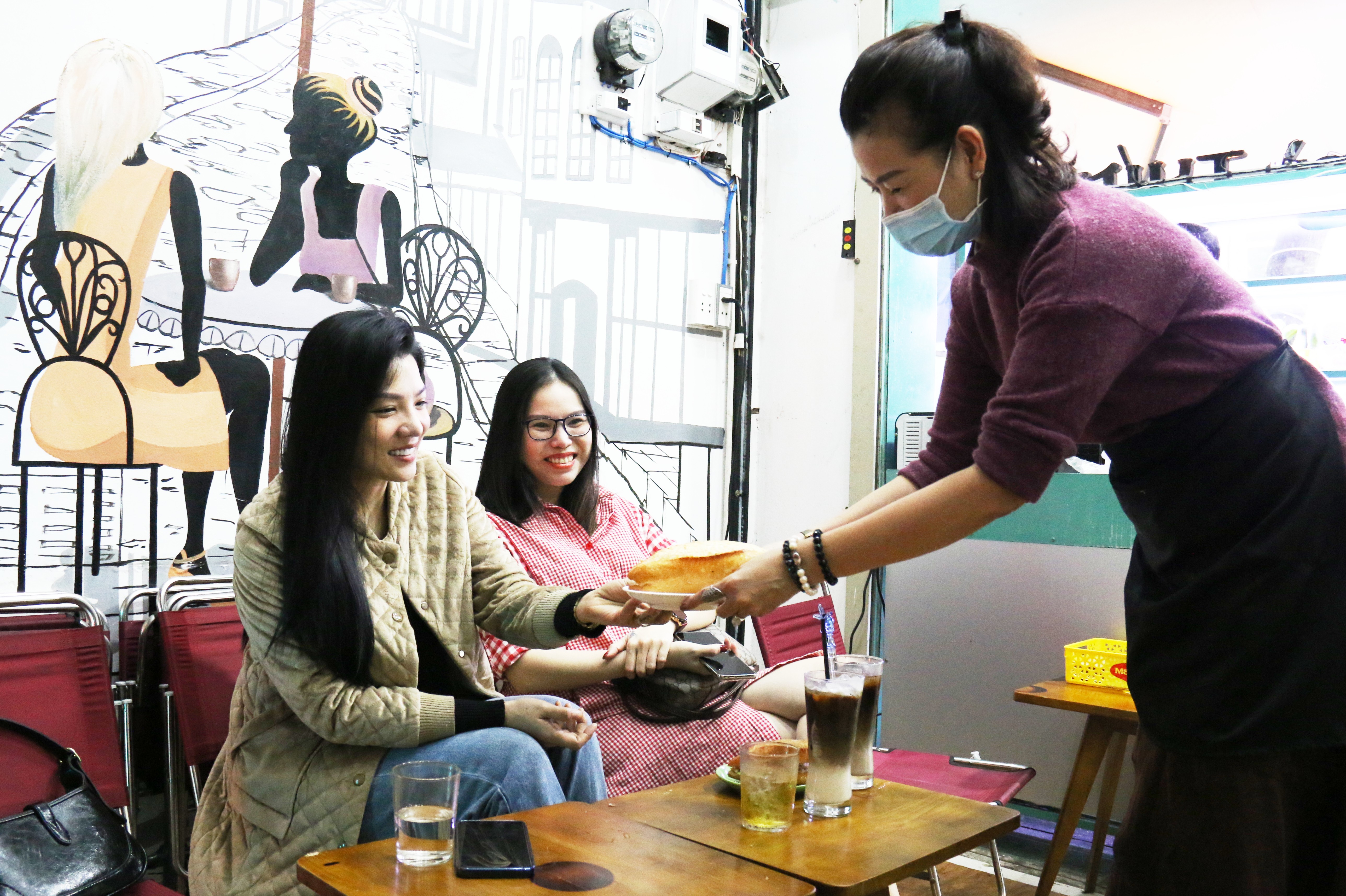 Customers choose Thinh's banh mi for their breakfast to have more energy to work. Photo: DAN TAM
The Thinh shop serves fresh 'banh mi' carefully wrapped in a clean paper package printed with an image of a graceful Vietnamese girl holding a loaf of bread with the words 'Thinh - Vietnamese Bread' in both Vietnamese and English, accompanied by tissue and a toothpick.
'Banh mi' here is a combination of the crunchy on the outside but soft inside thanks to a thin layer of pate, slices of greasy roast pork mixed with the sweet taste of cucumber, the mildly spicy and aromatic taste of green chilli to create its flavour. In addition to roast pork, the shop also offers bread with ham inside or omelettes.
According to Ms Truong Thi Nam Binh, the owner of Thinh 'banh mi' shop, 'Thinh' is literally a condiment in Vietnamese cuisine, usually made of roasted rice, baked rice paper or corn. But, the word Thinh that she chooses is to follow the popular trend used on social networks by the young, which means to intentionally attract someone. Therefore, Ms Binh wants to attract more locals as well as tourists to come and enjoy the unique taste of Thinh's banh mi via the name of the shop.
Although Thinh 'banh mi' shop was opened in September 2020, Thinh mostly serves local customers due to the impact of the prolonged COVID-19 pandemic.
In the upcoming time, Ms Binh is going to cooperate with travel agencies to provide a convenient breakfast for visitors to Da Nang.
At the same time, she also aims to franchise the brand to spread the Thinh 'banh mi' flavour to more and more people across our country soon.
Reporting by DAN TAM- Translating by T.VY
.