Enjoy cozy, peaceful vibe at Gac Tinh vegetarian restaurant
December 15, 2021, 12:17 [GMT+7]
With an elegant, rustic and close to nature architecture, Gac Tinh, located at 40 Xo Viet - Nghe Tinh Street, Hai Chau District, Da Nang brings customers back to the old space with the cozy and quiet vibe in the heart of the city.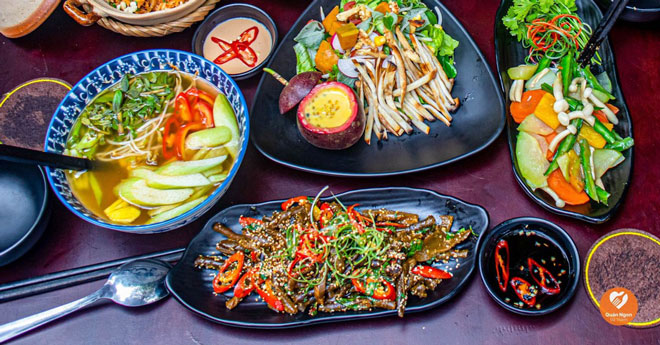 Vegetarian dishes are skillfully prepared by experienced chefs. Photo: D.L
This well-designed restaurant impresses its customers by the entrance walkway covered with green bamboo shades and a trellis of flowers stretching their roots underneath houses roofed with mossy tiles, making visitors feel like they are lost in an ancient house.
In particular, the large garden is planted with many types of trees which are familiar to farmers such as jackfruit, areca, betel nut and sesame, interspersed with appropriately placed jars and stone mortars.
The airy spaces inside decorated with many bamboo lanterns, pink lotus paintings and ancient calligraphy generate a sense of serenity like the name of the restaurant.
In addition, Gac Tinh also has closed rooms to ensure the necessary privacy which are suitable for groups of students coming to exchange and discuss lessons without affecting others around them.
Gac Tinh offers a wide selection ranging from coffee, tea, nut milk, kombucha to appetizing vegetarian dishes made from seasonal, fresh and frugal plant-based ingredients daily.
The restaurant always says no to additives and refined sugar and produces sweet by using tubers, vegetables due to its principle towards a healthy and balanced lifestyle from the inside.
King oyster mushroom braised with ginger is one of the favourite vegetarian dishes of many diners when coming to the restaurant.
Moreover, the restaurant often pays attention to updating new dishes and offering a host of promotions.
Coming to Gac Tinh amid chilly days in winter is quite a great idea for you to have a date with friends and their loved ones while enjoying vegetarian dishes, or just simply enjoy a warm cup of tea in a deposited little corner while reading a favourite book to relax your mind.
Reporting by DOAN LUONG- Translating by T.VY
.