Ocean Villas- perfect destination for pleasurable weekend
December 06, 2021, 23:08 [GMT+7]
Lately, many people choose to rent a beach villa for a leisurely weekend to both relax with their loved ones and have the feeling of travelling but do not have to go far from the city or go to crowded places amid days of the complicated pandemic.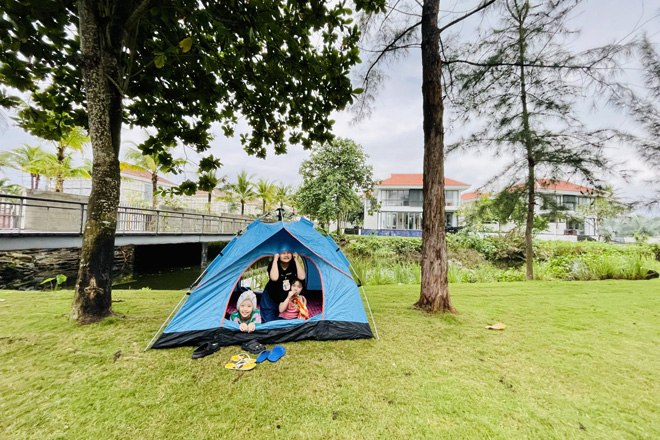 The large separate green grass gardens in front and behind the villa are fascinating playgrounds for children
As a large complex resort located on Truong Sa Street, Hoa Hai Ward, Ngu Hanh Son District, The Ocean Villas houses everything necessary for guests' comfort including a host of villas and suites being sanctuaries of comfort and privacy. This area impresses its guests with good security and a large green lawn in the front and back of each villa, bringing outdoor playgrounds for kid activities. In addition to the private open-air swimming pools, it just takes a few steps to reach the beach to immerse yourself in nature.
Moreover, the villa is surrounded by the glass instead of closed walls to give guests coming here the most authentic feeling of the surrounding fresh plants. Spacious sea view bedrooms fully equipped with basic equipment, plus the open kitchen adjacent to the living room help to foster the best sense of comfort for guests on their weekend vacation.
Aside from that, the on-site charcoal stove can also be served according to guests request to have an outdoor barbecue party with their loved ones in a cosy atmosphere. This area also limits the sound from karaoke speakers, so you won't be disturbed by the noise of parties and entertainment from neighbouring apartments.
For the time being, tourism activities in Da Nang have gradually returned with numerous promotions. This is an opportunity to experience services that are considered luxury previously at a favourable price. Renting an airy, private and quiet resort villa to "change the wind" for the weekend is also an interesting experience with affordable prices for many people at this time.
Reporting by HUONG DUONG- Translating by T.VY
.