Enjoy the relaxation and tranquil scenery at R&B Milk Tea & Coffee
January 25, 2022, 18:07 [GMT+7]
Located at the end of the Green Island Villa area, R&B Milk Tea & Coffee takes advantage of the cool and fresh air of the verdurous trees along the Han River and the landscape of Asia Park to give visitors a calm as well as peaceful feeling.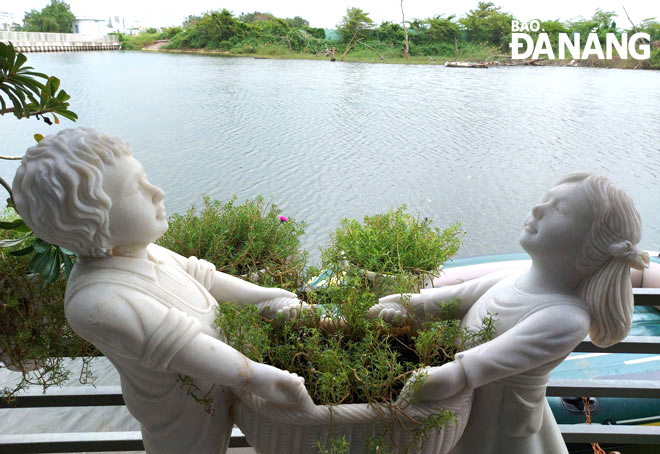 Creative small stone statues generate a fascinating and lovely highlight of the café. Photo: D.L
In particular, the restaurant makes use of the old boat anchorage to make a highlight when turning this place into an open space with a golden view of the river. It's a good idea to enjoy the entire Tran Thi Ly Bridge and the shimmering and fanciful Sunwheel from a little peaceful corner in R&B during daytime as well as at night with colourful electric lights to take interesting photos. This is also consistent with the owner's motto to serve customers- "If you want to be warm, look for summer. If you love strange feelings, come to R&B."
Moreover, the shop serves numerous nutritious drinks including a variety of delicious milk tea and cool tropical fruit tea along with a strong coffee flavour.
In particular, detox tea has a sweet and sour fruit flavour that is both anti-boring and nutritionally balanced.
On top of that, R&B Milk Tea & Coffee not only houses an open space filled with green natural scenery, but it also has a clean, clear swimming pool that is free daily for children to play and swim in the summer.
Parents can comfortably relax, enjoy delicious drinks while watching their children play and have fun with friends under the cool water.
Besides, customers can just sit and wait for the fish to bite the bait by the peaceful river while enjoying a cup of black coffee after a stressful working day.
Reporting by DOAN LUONG- Translating by T.VY
.