Enjoying coffee and soy milk for your weekend appointments at Mat coffee shop
February 20, 2022, 17:42 [GMT+7]
If you are still wondering where to go for your weekend appointments, let's head to the Mat coffee shop, located at 40 An Duong Vuong Street, My An Ward, Ngu Hanh Son District, to immerse yourself in an open space and enjoy a variety of delicious coffee as well as plant-based milk choices.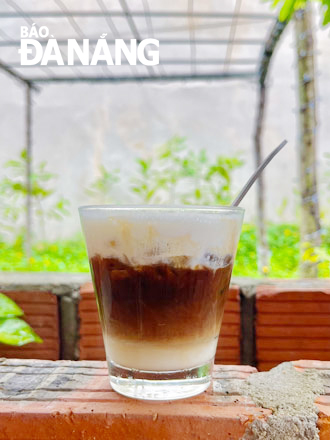 Photo: KHANH QUYEN
Mat is the enthusiasm of a group of people working in the tourism industry. The idea of this café came up in July 2021
According to Ms Ny, a member of the group, Mat coffee was initially simply the result of taking advantage of the time when their work was paused due to the impact of the pandemic. But when they started working, they put much more effort into how to make the rustic and airy space, how to create the best coffee and soy milk recipe to provide customers with a feeling of relaxation and lightness.
As soon as stepping foot in front of the shop, customers can feel the natural, fresh cool breeze here. Mat uses green as the main colour in combination with raw brick walls to create a rustic atmosphere for both indoor and outdoor spaces. While some customers who need to work and study usually choose indoor space to concentrate more on their duties, others coming here for comfortable conversations often choose the front yard of Mat café.
Mat's almond milk and soy milk seem to capture customers love most among its drinks. In particular, soy milk combined with almond, mint, coffee or cacao has given a new experience but is still delicious and nutritious for customers. In addition, corn milk, fresh fruit juices, milk tea and yoghurt have also been the most popular beverages at the café.
Moreover, all types of beans such as soybean and corn kernel to make plant-based milk are hand-picked by Ms Ny, and then cooked according to her recipe. On top of that, if customers want to drink a type of milk that does not exist on Mat's menu, they can use a special service to cook milk for them. Customers can buy ingredients themselves and the shop will cook milk for customers according to their requests.
Mat coffee shop serves customers from 6:30 am to 9:00 pm daily onsite as well as online.
Reporting by KHANH QUYEN- Translating by T.VY
.