Brewhaha – perfect place to meet up with friends
March 08, 2022, 10:27 [GMT+7]
It would be remiss for beer lovers in Da Nang if they did not stop over Brewhaha, a warm Western-style restaurant offering the best beers spanning across a variety of worldwide styles and flavour profiles.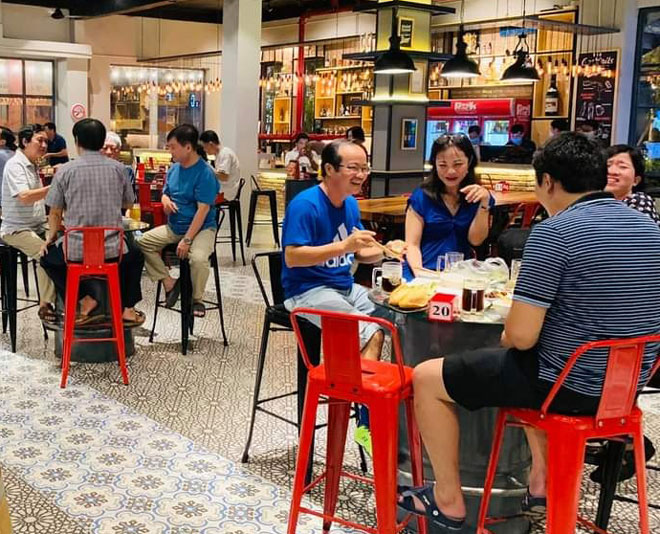 The airy and polite space inside the Brewhaha restaurant. Photo: T.N
Located at 135 Tran Phu street, Brewhaha restaurant puts on its attractive appearance the simple but luxurious and modern architecture.
Besides, the restaurant also has a unique filling system, which is always ready to serve customers with fresh beer from various brands such as Redrock, Jopen, Leffe, Gauden (Black Bear), Wrap, Kacua, Tucher, Warsteiner and hundreds of different drinks.
In particular, Australian-style Redrock beer is brewed and fermented from barley and fresh hops in Viet Nam to give the beer a golden yellow colour, rich taste and a slightly bitter aftertaste. Meanwhile, Gauden, a typical dark beer of German cultural tradition, gives a rich and slightly bitter taste thanks to a blend of chocolate and coffee. This type of beer is brewed in compliance with the original recipe from thousands of years ago with 100% imported ingredients from Germany.
Not only can customers choose high tables and chairs arranged at the right height to have a chat with friends in the inside space, but they can also choose an airy space in the garden.
In particular, everything here is well-ventilated and suitable for the privacy of customers, even ensuring prescribed conditions for the prevention and control of COVID-19.
On top of that, people coming here are free to bring their food or order diverse and affordable food at the restaurant.
A combo of a Redrock beer tower 3L, German sausages with 3 flavours, grilled vegetables and Russian salad, which costs only VND 499,000, is a good case in point.
In addition, the restaurant also has a large screen having high-quality sound for customers to enjoy music or cheer on football.
Reporting by TAM NHU- Translating by T.VY
.