Let's come to Bao An restaurant to try healthy macrobiotic dishes
March 28, 2022, 10:08 [GMT+7]
"If you want to feel the sweetness of brown rice, chew slowly and thoroughly. The simpler the food, the lighter the body and mind, which is also what Bao An restaurant wants customers to experience," shared by Ms Nguyen Thi Kim Nga, owner of Bao An macrobiotic restaurant located at 56 Hoang Bich Son Street, An Hai Bac Ward, Son Tra District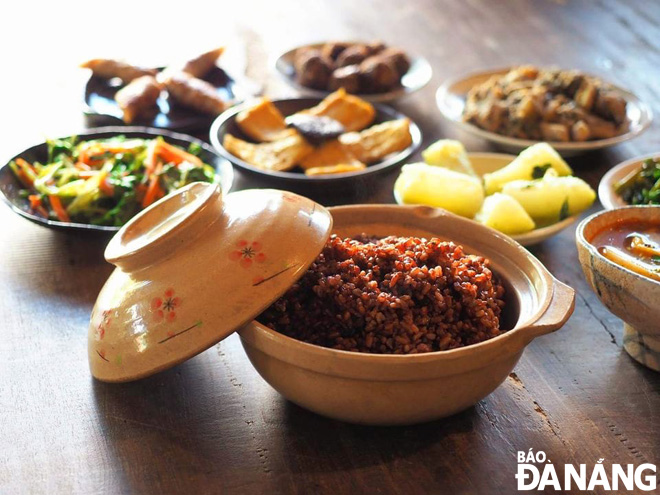 Brown rice is a favourite dish at Bao An macrobiotic restaurant. Photo: H.L
According to Ms Kim Nga, one of the most important factors in running her business is the way customers enjoy macrobiotic dishes. The macrobiotic diet is a natural way of eating, based on some general formulas, such as eating whole herbs (vegetarian) including 50% brown grains; 10% peas; 35% vegetables, tubers, and seaweed; 5% fruit and dessert; or meat diet consists of 50% of brown grains; 5% peas; 35% vegetables, seaweed; 5% fish; 10% fruit and dessert. In addition, people can add more condiments such as sesame and salt, soy sauce, fish sauce, vegetable oil.
"You can divide your daily diet into 2, 3 or 4 meals and eat only about 80% of your ability to consume food. Eating slowly and chewing well is the secret of good health and happiness," said Ms Nga.
On the daily basis, Bao An Macrobiotic restaurant offers a wide range of dishes such as Thai vermicelli, shumai bread, oat soup, brown rice porridge with vegetables, organic wholemeal dumplings, Quang noodles, vegetarian ram rolls with cabbage, brown rice, vermicelli to serve its patrons. In particular, the plate of brown rice is often served with 5 side dishes such as cabbage rolls braised with ginger sauce, braised pumpkin, water morning glory fried with garlic, fried spring roll, seaweed, bringing an interesting experience for diners.
In addition to the clever and beautiful food arrangement, Bao An Restaurant is committed to not using MSG, broth mix, refined sugar or any other industrial spices. Moreover, all grains, vegetables and tubers are sourced from organic farms. Therefore, dishes here are naturally luscious thanks to vegetable broth and fermented seasonings such as tamari sauce, miso sauce, salted apricots, stewed salt, macrobiotic fish sauce.
According to Ms Nga, macrobiotic dishes may not stimulate diner's taste like those containing a lot of fat and common spices, but they are healthy and nutritious food for dieters or vegetarians.
Reporting by HUYNH LE- Translating by T.VY
.