Tasty herring salad at Phu Sa restaurant by gentle Cu De River .
March 24, 2022, 10:48 [GMT+7]
Phu Sa restaurant, located on Ngo Xuan Thu street on the banks of Cu De river, Nam O area, Hoa Hiep Bac Ward, Lien Chieu District is considered by the locals to be one of the rare addresses retaining the characteristic flavour of raw herring salad.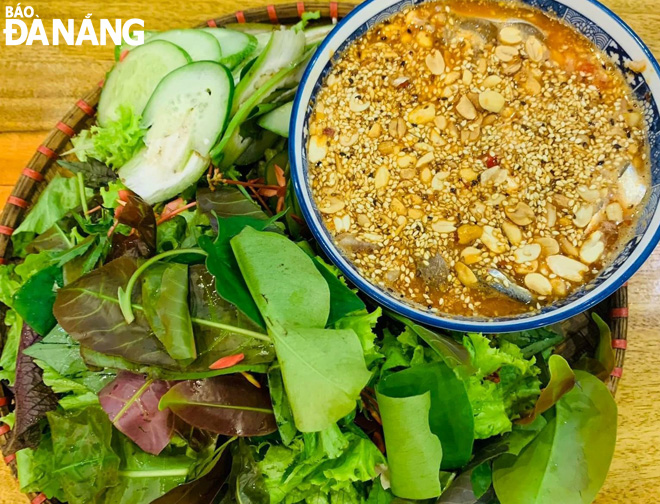 Herring salad at Phu Sa conquers the taste of numerous people, even the most fastidious diners. Photo: H.L
In addition to the bold, sweet, aromatic and spicy herring, the plate of fresh wild vegetables served with the dish makes this Da Nang speciality even more delicious.
It might be simple enough to reach Phu Sa restaurant located along the Cu De River as diners just need to turn left after going past the Nam O bridge, then go straight ahead on Ngo Xuan Thu street for more than a kilometre to come to the restaurant.
Phu Sa offers a wide range of typical dishes of estuary regions such as salad from herring or jellyfish, steamed snails, shrimp, crabs, fried mussels, fish braised with pickled cabbage. Standing out of this delicacies is sophisticated Nam O herring salad which is considered as the main dish making up the brand name of Phu Sa.
As shared by Ms Do An, manager of Phu Sa restaurant, the restaurant has consumed dozens of kilograms of salad on the daily basis, and the most are on weekends. To make a delicious salad, the herring used for processing must be fresh, sweet and chewy, small apricot herring.
The fish, after being cleaned and boned, will be sliced thinly to mix with rice auditorium for dry salad or typical dipping sauce made from Nam O fish sauce, garlic, chilli, galangal, ginger, sugar, and MSG for wet salad.
Sweet, spicy and bold herring flesh served with wild vegetables as well as leaves of ambarella, young mango, and cucumbers, star fruit, thinly sliced green bananas with acrid, sour taste has made for an explosion of flavours.
Thanks to the deliciously soft and fresh herring salad, Phu Sa has earned its popularity amongst people even though it is located in a location that often gets overlooked.
In particular, for the past 2 years, loads of visitors coming to Hoa Bac Commune have chosen to visit Phu Sa to enjoy dishes with unique flavours of Nam O land as well as unwind their minds by the poetic, gentle Cu De River.
Reporting by HUYNH LE- Translating by T.VY
.