Unwind your mind at New Port beach campground
March 18, 2022, 09:34 [GMT+7]
Located right on Kim Lien beach, Hoa Hiep Bac Ward, Lien Chieu District about 15km northwest of Da Nang downtown, New Port beach campground with a combination of restaurants, cafes, bars, accommodation services has blown a new breeze to the local tourism.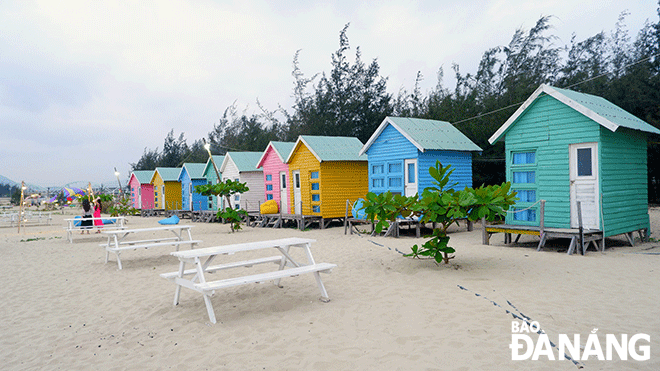 A scene of New Port (Photo: K.Q)
New Port covers a total area of more than 1,000 square meters with airy and pleasant space. Visitors coming here can choose to sit on long wooden chairs attached to tables, soft beanbags or cloth carpets to loosen up in mind and body, enjoy the peace here, as well as inhale the fresh air and the typical scent of cassava forest while listening to the waves lapping to the vast white sand and admiring the magnificent beauty of faraway Hai Van Pass, Son Tra Peninsula.
Not only does New Port offer visitors pleasant space, but it also gives them a wide variety of food and drinks such as whiskey, vodka, rum, wine, liqueur, cocktails, fresh fruit juices or cobia braised with pickled cabbage, Le Pass chicken grilled with lemongrass and chilli, black tiger shrimp grilled with pure fish sauce.
On top of that, if visitors choose to stay at New Port overnight, they will experience staying cheerful colourful wooden houses having sea views. In addition, live music will be taken place here every Wednesday, Friday and Sunday night to bring a series of gentle, romantic melodies to visitors. New Port is open to welcome everybody during days of the week.
Reporting by KHANH QUYEN - Translating by T.VY
.