Numerous special and attractive events and festivals in Da Nang on occasion of April 30 and May 1
April 22, 2022, 11:20 [GMT+7]
Employees of government agencies and departments, as well as those of political and social organisations, nationwide will officially have 4 days off for the National Reunification Day (April 30) and International Labour Day (May 1), according to the Ministry of Labour, Invalids and Social Affairs. Therefore, Da Nang's tourism sector is on track to prepare for a series of interesting entertainment activities to satisfy growing needs of locals and tourists.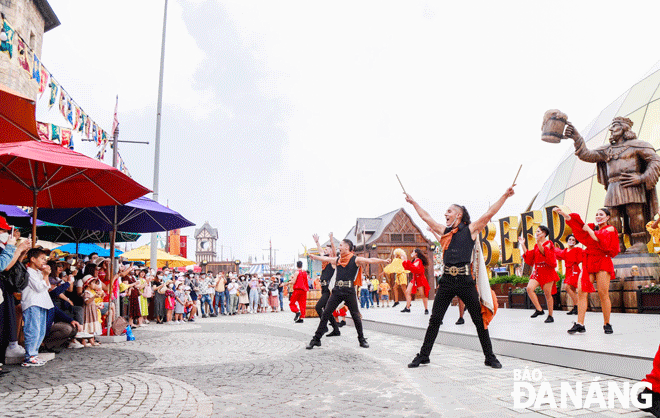 A wide range of new and special programmes, festivals and tourism products will be offered to visitors to Da Nang on the occasion of April 30 and May 1. IN THE PHOTO: Visitors are enjoying an art show at the Sun World Ba Na Hills Resort. Photo: THU HA
New and impressive tourism products
As planned, the Da Nang Beach Tourism Season 2022 will take place at the East Sea Park and some venues in Son Tra District, and along beaches of My An, T18, My Khe and Nguyen Tat Thanh from April 28 - May 3.
The annual event will feature a wide range of fascinating cultural and sporting activities, which is expected to make visitors feel more excited during their stay in the city.
In addition to such typical activities as sand sculpture contest and arts performances, there will be many new and impressive activities such as a beer garden, an art kite festival, paragliding performances, a 'Danang Summer Camp' hip-hop competition, a freestyle dance space themed 'Dork Dancing', a seasports festival, the Da Nang Color Race 2022, a SUP festival, a swimming competition, and a non-motorised paragliding tournament entitled 'Flying over the silver sea'.
Most specially, some attractive night entertainment activities will be organised along the My An beach in Ngu Hanh Son District, including an outdoor cinema, an outdoor art stage and new mobile food service carts.
On this holiday, some tourist attractions in the city plan to organize many attractive programmes to serve visitors.
In particular, visitors to the Sun World Ba Na Hills will have the opportunity to experience a mountain-climbing railway that is nearly 430 metres long, participate in the Food and Beer Festival (B'estival) 2022, and enjoy an arts show entitled 'The Battle of the Moon Kingdom' to be performed by more than 160 international artists.
Moreover, the Sun World Ba Na Hills will introduce a new project Grand Cascade with more than 40 golden statues, promising to surprise visitors on the occasion of April 30 to May 1.
Also, visitors to Da Nang during the forthcoming public holiday will have a chance to immerse themselves in vibrant music atmosphere at the 'Rap Show' which is slated for April 30 evening at the Tien Son Sports Arena.
Meanwhile, the Asia Park will officially reopen its doors to the public from April 30. Visitors will enjoy lion and dragon dances, food stalls and musical programmes on weekend evenings.
Deputy General Director of the Sun World Group cum Director of the Ba Na Cable Car Service JSC Nguyen Lam An remarked that
"Although the Sun World Ba Na Hills has just reopened to welcome visitors back, it has welcomed quite a lot of tourists from both home and abroad. Currently, the tourist spot is deploying many new tourism products to serve tourists. We are looking forward to contributing more impressive and large-scale tourism products to Da Nang so as to help the city restore its tourism sector soon".
Most recently, the city has launched the Da Nang Tourism Stimulus Programme 2022 themed 'Enjoy Da Nang' with many attractive and unique product packages at preferential prices and professional service quality, promising to bring the best incentives and service experiences to visitors.
According to Mr. Nguyen Viet Trai, Director of the Da Nang branch of the Mai Linh Tourism Company, cum leader of a sales team of the city's tourism stimulus programme, the abovementioned packages are being sold by 12 travel agencies and tourism service providers in the city.
He noted this year's stimulus packages focused on not only tourists in Viet Nam's two biggest cities of Ha Noi and Ho Chi Minh City but also on those from neighbouring localities. Travel agencies will connect diversely with domestic tourist markets to attract more tourists to Da Nang.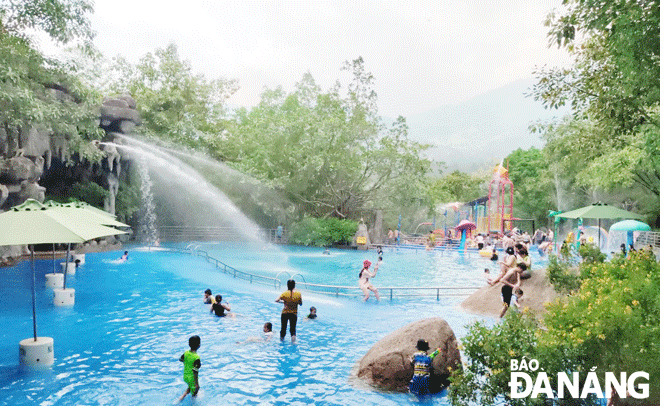 Visitors are seen at the Nui Than Tai Hot Spring Park. Photo: THU HA
800 tourism firms resume operations
As of late March, about 800 tourism firms across Da Nang, accounting for nearly 50% of the total, had resumed their operations.
Of which, there were more than 400 accommodation providers offering a total of 17,000 rooms, 15 tourist attractions, 190 travel agencies, 170 passenger transport service providers with 2,100 vehicles, and 18 tourist boats.
It is expected that the room occupancy rate at 4 to 5-star hotels will reach at about 70-80% over the forthcoming public holiday.
Currently, tourist attractions and accommodation establishments in the city have well prepared infrastructure and human resources to be ready to welcome guests.
Since its reopening in March, the Nui Than Tai Hot Springs Park has always been crowded with tourists. Last weekend alone, the tourist site welcomed about 7,000 visitors.
Director of Communications and Marketing of the Nui Than Tai Hot Springs Park Le Thi Bich Huong said that her park is forecast to welcome about 20,000 visitors over the upcoming public holiday, so it has already prepared new products and human resources to be ready to serve guests.
"On this holiday, the Nui Than Tai Hot Spring Park will organise a lucky spin programme themed 'Celebrating Big Holiday, Giving Nice Gifts' for all visitors. In addition, the tourist site is also rushing to build more restaurants specialising in serving hot pots and grill buffet to increase the variety of culinary services" revealed Mrs. Huong.
Sales Director at the Mikazuki 365 Water Park Nguyen Van Duc said that the tourist site has prepared well in terms of personnel to ensure the best service for visitors over the forthcoming public holiday.
Additionally, the Mikazuki 365 Water Park plans to organise more music and magic shows to serve visitors, and offer 30% off ticket prices so that people and tourists can enjoy the holiday comfortably.
According to Mr. Ho Thanh Tu, General Secretary of the Da Nang Tourism Association, in order to enhance the quality of tourism services to satisfy the growing needs of tourists, the municipal Department of Tourism has coordinated with the association and some relevant units to organise training courses on improving professional skills for hospitality workers.
He also underlined the need for tourism businesses to strictly comply with national government-mandated pandemic prevention and control measures, and boost the application of technology and digital transformation for meeting tourists' tastes and perfecting new suitable products and services.
Reporting by THU HA - Translating by M.DUNG
.