Place ideal for warming up friendship
April 12, 2022, 08:35 [GMT+7]
In addition to the architectural space imbued with Chinese culture, Tieu Nhi Quan located at 1-3 Do Xuan Cat, Hai Chau District, Da Nang gives diners interesting experiences when enjoying Asian dishes that ensure the highest standards in terms of colour, taste, food texture and layout.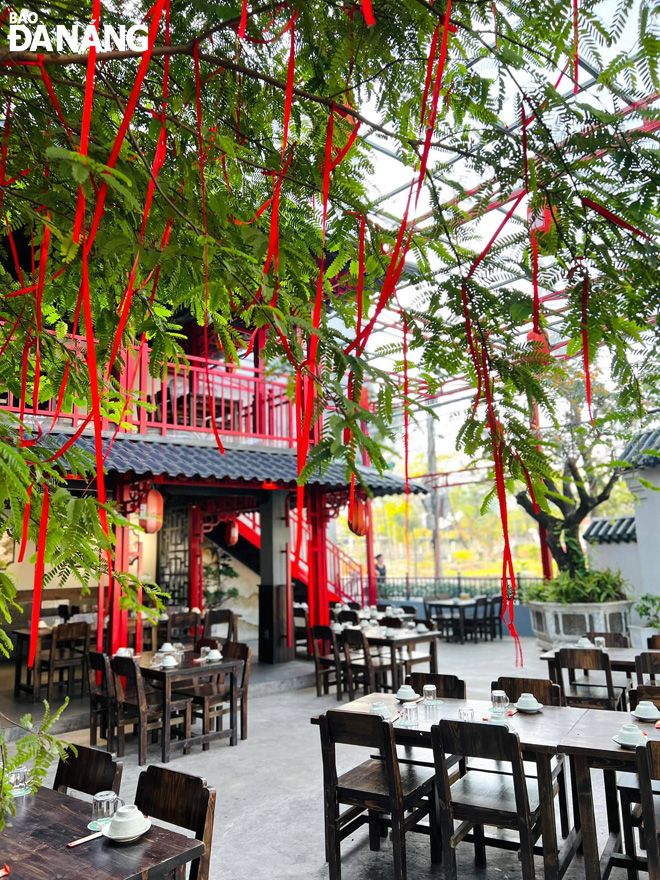 The Tieu Nhi Quan space is spacious and airy, bringing comfort to diners. Photo: T.N
The shop daily operates from 10:00a.m till midnight, serving many delicious dishes with sea flavour such as crunchy deep- fried shrimp, crab hotpot, fresh orange salad served with salmon and grilled oysters.
Particularly, the restaurant is the first of its kind in Da Nang to serve the crunchy deep- fried shrimp, a specialty of Phu Yen Province in south-central Viet Nam.
The fresh shrimp mixed with Nam O unique fish sauce brings the amazing mixture of the various flavours really gives a pleasant texture and a smooth aftertaste! Meanwhile, the grilled oysters are covered with cheese sauce with a greasy aroma but still retain the natural sweetness of milk oysters.
These dishes, made with the intricate texture, are a quick fix for empty stomach!
In addition, the restaurant often launches promotions such as barbecued suckling pig dishes served with free-of-charge fried 'banh bao' (steamed bun dumpling cakes) whilst beef hotpot with crab and beef, grilled snakehead fish, Thai-style cooked cheekbones with free accompanying dishes such as roasted sesame potatoes, pickled onions and papaya.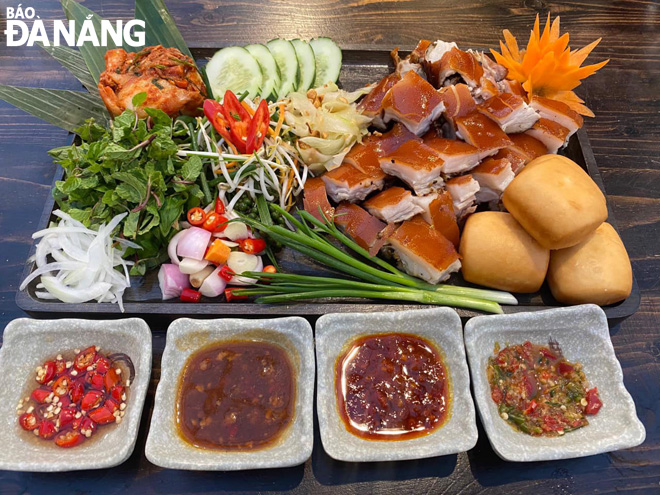 Barbecued suckling pig is a favourite dish to many diners at the Tieu Nhi Quan.
Tieu Nhi Quan not only focuses on unique dishes but also cares about diners' stomachs when adding egg fried rice for customers to be full after enjoying good cups of wine for fun.
Ink paintings on silk and paper background depicting Chinese scenes are used to decorate the space to make the space more nostalgic, airy and full of poetry.
Although being airy and cool, the shop still ensures privacy for customers thanks to the appropriate layout to organise intimate meetings, parties, birthdays, class meetings and other events, including private party rooms that can accommodate 10 - 15 or 20 - 25 people.
In particular, the restaurant staff is professional and strictly implements COVID-19 prevention measures.
Reporting by TAM NHU – Translating by A.THU
.