Preserving highly-familiar Northern culinary flavour in Central Viet Nam
April 30, 2022, 17:41 [GMT+7]
During the migration journey of the Northern people to the Central or the South to find a new life, they have brought with them the flavour of their homeland hidden in each delicacy to both lights the fire of love for their homeland and spread the culinary essence to the new land.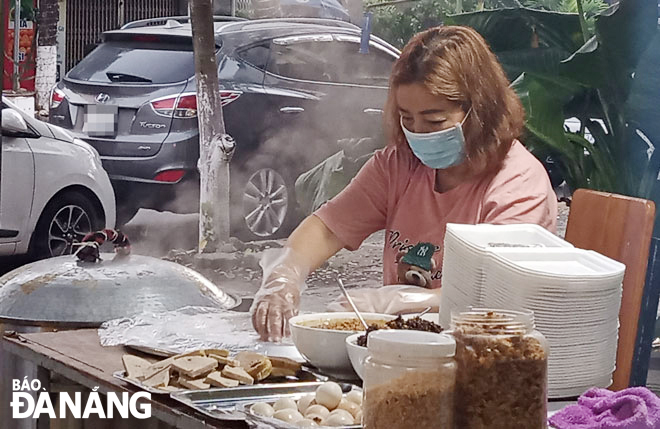 Ms Thanh Hang is preparing Lang Son steamed rice rolls for her customers. Photo: A.Q
Accidentally connected to Da Nang
Ms Thanh Hang, owner of Lang Son steamed rice rolls restaurant at 165 Khuc Hao, Son Tra District, said that thanks to a relative who went to the North to visit her and encouraged her to bring Lang Son steamed rice rolls to Da Nang for selling, she learned to make this dish proficiently and moved to the city by the Han River to start a business 2 years ago.
Since then, the main ingredient of the dish, which is the fragrant Bao Thai rice, has also followed her to Da Nang. What makes Lang Son's speciality is steamed rice rolls with eggs. At the cracking of dawn, she spreads a thin layer of rice flour on the thin cloth used to make the dish and waits for the cake to cook.
Then she pours an egg on top and folds the edges and closes the steaming lid. When the steamed rice roll is cooked, she takes it out on a plate and adds minced meat on top. The accompanying broth must be pork bone broth added with minced meat and chopped coriander. When eating, put the whole steamed rice roll in a bowl of that broth.
"I want to keep that way of eating so that Da Nang people can enjoy authentic Lang Son speciality but many people do not like it or find it strange. Therefore, I have to follow the usual style of this dish in Da Nang. When a customer requests it in Lang Son's original style, I am overjoyed," said Ms Hang
Meanwhile, Ms Thanh Huong, the owner of two establishments of Thanh Huong seafood vermicelli in Hai Chau District, realized that Da Nang is a "good land for new birds to roost" on the occasion of visiting her relative 6 years ago so her family decided to stay and start a business with seafood vermicelli here.
Although Da Nang is also a coastal city like Ha Long, her hometown, she has her own secret to make the typical seafood vermicelli dish bearing a strong hometown flavour. The broth is cooked from seafood, adding a sweet taste from peanut worms, a speciality of Van Don. Squid cake and dill fish cake was originally brought in from Ha Long, but after that, her family used squid and fish in the central sea with the same processing method in her hometown.
Particularly, mantis shrimps must be taken from her hometown in Quang Ninh's sea as mantis shrimps having a strong sweet taste must be steamed immediately to keep that sweetness. In addition, diners can also enjoy crab cakes, vermicelli or sticky rice, which are modified by the owner Thanh Huong on request to please customers.
Mantis shrimp, a speciality of Quang Ninh sea, was brought to Da Nang to keep the taste of Thanh Huong seafood vermicelli. Photo: A.Q
In Da Nang, besides pho which is the "national cuisine", there are also special dishes associated with the Northern land such as bun cha ( Vietnamese dish of grilled pork and noodle), bun dau mam tom (Vermicelli with fried tofu & shrimp paste), steamed rice rolls, banh da cua ( crab cake soup with red rice noodle) and Ha Long seafood vermicelli.
These delicacies are not only available in restaurants and luxury hotels having sophisticated services to meet the diverse demands of customers, but also on every corner of the streets and alleys of Da Nang. People here often encounter small restaurants that radiate the delicate yet rustic flavour of Northern cuisine.
Warm the hearts of those living far from home with the familiar tastes
Mr Hoang Quyen, a native of the North now residing in Da Nang, said that Northerners come to their local speciality restaurants not only to show their respect for their homeland but also to relive their childhood memories imbued with unforgettable flavours.
Over time, reminiscences about the unique culinary culture crystallized from thousands of years in Vietnamese life are not easy to fade. Therefore, a conundrum posed for restaurant owners or chefs is how they can satisfy the taste of the Central region's people and tourists but also preserve the unique flavour and spread the essence of the dishes of their homelands.
Nowadays, it has been easier than ever to transport ingredients across Viet Nam, "so the important factor that an expatriate must have is the skill and the heart to the native land to make the original soul of the dish," said Mr Hoang Quyen.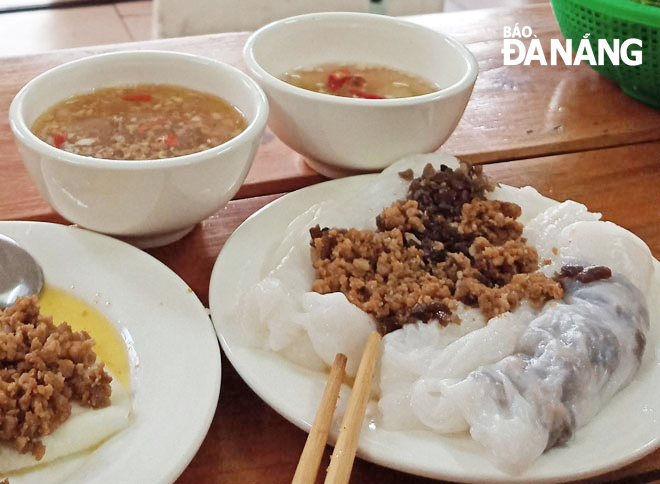 Lang Son steamed rice rolls with eggs at Ms Thanh Hang's restaurant. Photo: A.Q
Similarly, as shared by Mr Mai Hung, the owner of Thu Yen – Northern Cuisine restaurant located at 68 Le Thanh Nghi, Hai Chau District, after 20 years in the Central region to set up a business, he understands that nostalgia for home has been not only images of street corners, countryside roads but also tastes in every dish that has raised him up. Having experienced numerous jobs and selling a host of dishes, he decided to "anchor" with crab cake soup with red rice noodles (banh da cua) until now.
His restaurant is aimed at customers who are native of the North now residing in Da Nang so most of the ingredients are taken from his hometown. The way of processing follows the Northern style but it is also slightly adjusted to suit the Central region people's taste. "We want each dish of the restaurant not only to be delicious but also to warm the heart of each expatriate," said Mr Mai Hung.
Following in the footsteps of immigrants from the North to the Central and the South, Northern cuisine bearing the flavour of their homeland both lights up the fire of love for the homeland of expatriates and spread the culinary essence to new lands.
Reporting by ANH QUAN- Translating by T.VY
.