The garden for dreamers
April 04, 2022, 16:30 [GMT+7]
Located at 230/2 Nguyen Cong Tru, Son Tra District, Da Nang, the Dreamer Coffee Shop is much loved by young people in the city thanks to its space filled with trees, brilliant flowers and green grass.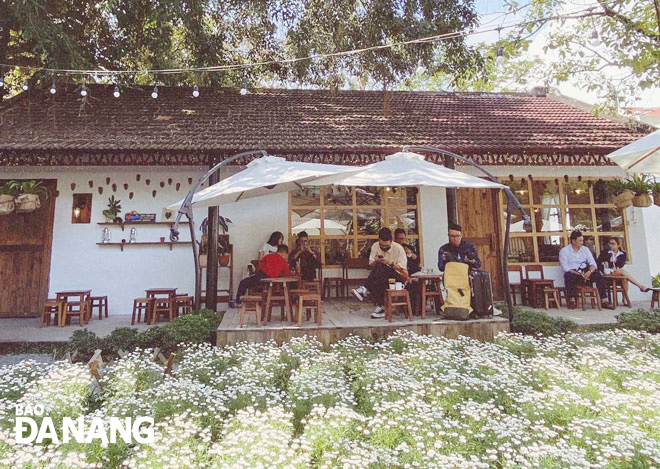 Dreamer - The garden for dreamers. Photo: T.T
From the outside, customers are deeply impressed by a lovely garden of Da Lat pure-white daisies in full bloom at Dreamer. Around the flower garden stand cute small wooden tables for guests to relax in a peaceful setting, enjoy tasty drinks, admire the scenery, and take photos of whatever they want.
Inside the old tiled roof house are tables covered with white cloth towels, in harmony with the curtains and brown tones of wood, all bringing a feeling of closeness and coziness.
Operating from June 2021, Dreamer welcomes 500 - 700 visitors every day, and the figure soars to over 1,000 on public holidays and at Tet.

Three young men, namely Le Anh, Do Thanh Sang and Dang Cong Linh, the co-founders of the Dreamer said that Dreamer aims provide an ideal space for young people to make mutual exchanges, photo shootings, enjoy relaxing music after tense hours of study and work.
During the construction of this coffee shop, the group went to the tourist city of Da Lat in the Central Highlands province of Lam Dong to select flowers and plants for planting in the Dreamer garden. "We planned to plant a different flower each season to serve guests such as daisies, roses, lavender, hydrangeas", said Le Anh.
One of the more advantageous points of Dreamer is the design of a small house for the cultivation and display of ornamental plants and mutant leaves with the name "The House of leaves". this House shows off hundreds of unique foliage plants imported by Dreamer from other such countries as Indonesia and Thailand.
On rainy days, guests can take seats and drink a cup of tasty coffee in the wooden house, or right in the middle of the flower garden covered with industrial outdoor parasols.
In addition to a wide selection of coffee, juices and cakes, Dreamer serves a variety of high-quality teas such as Dream Tea, Rice Milk Tea, Roasted Rice Tea, Lychee Tea and Orange Peach Tea with prices ranging from VND25,000 - VND45,000. On Wednesday and Saturday evenings, the Dreamer bar treats customers with shows of acoustic music and some snacks with bottled and draft beer.
Reporting by NHAT LE – Translating by A.THU
.