Da Nang's traditional markets expected to become tourist attractions
May 24, 2022, 11:23 [GMT+7]
Many traditional markets in Da Nang have made great efforts to promote their image as a civilized and polite destination to domestic and international tourists with a focus on selling high-quality local specialties.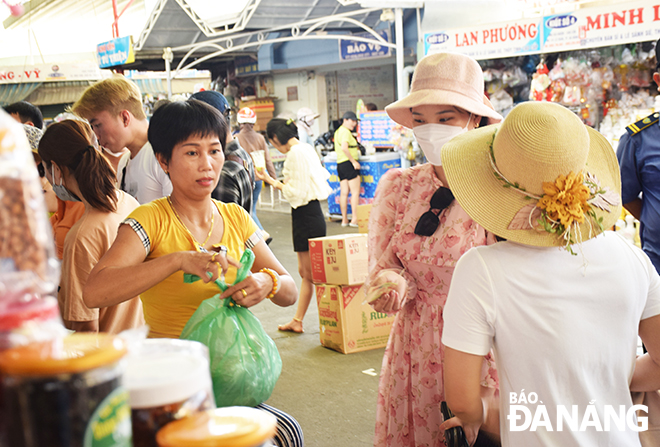 The Con traditional market has become bustling again, and it has been crowded with tourists. Photo: D.H.L
Retaining shoppers with high-quality products
In their efforts to attract and retain customers, stallholders operating in the Con Market have exerted every effort to build a strong brand image through selling prestige products at reasonable prices in a bid to gain customer trust. Hong Nga store is a prime example of the benefits of having a good reputation for it due to its high-quality products. Hence, the store attracts and retains customers from other parts of the country while they are visiting Da Nang.
In addition, Nghi Ha brand for ready-to-eat products comprising various types of seafood products made from shrimp, fish, and squid becomes familiar with tourists while visiting the Con Market. These products are very attractive to domestic tourists as they buy such products as their favourite items. Nghi Ha brand offers high quality products, and it expands its presence in such other Vietnamese localities as Mong Cai, Nam Dinh, Hai Phong, and Ha Noi.
Mr. Nguyen Dac Hung, the Head of the Con Market Management Board, said that the Con Market houses about 1,700 stallholders and 400 street vendors. The Con Market features both wholesale and retail trade with a variety of items to be sold at an affordable price, thereby making it more attractive to domestic and international tourists. Some local produce are popular with many tourists, including Ba Lieu 'banh kho me' (dried sesame seed cakes), Da Nang Pineapple Ginseng Sweet Soup, Hoi An Green Bean Cake, Tam Ky Cake, and Dried Squid.
The Con market has been bustling again with locals and tourists, and it daily welcomed about 5,000 to 6,000 visitors during the four-day break for the National Reunification Day (April 30) and International Labour Day (May 1) holidays. In the afternoon, the drinking and eating area in the Con Market and the street market on the internal route of Hung Vuong and Ong Ich Khiem streets become favourite destinations for tourists to enjoy eating and shopping.
"Visiting a traditional market, you can buy your favorite products at cheap prices, and immerse yourself in local culture ", said Ms. Nguyen Hien Anh, a tourist from Quang Binh.
Developing traditional markets into a civilized and polite destination
Despite the development and rapid expansion of supermarkets in Da Nang, local people still keep the habit of shopping at traditional markets as they can buy locally-grown products and specialty products that cannot be found at supermarkets and trade centers. Besides, visiting traditional markets is also a great way for tourists to explore local culture in their visiting places through interacting with stallholders. Therefore, developing traditional markets into a civilized and polite destination is very important to Da Nang in an attempt to attract more tourists.
This year marks the seventh year of the Con Market that has been recoginised as the city-level civilized and polite destination for tourists. Over the past seven years, the Con Market Management Board has taken action to ensure that stallholders observe the food safety regulations, sell their products at the displayed prices, and conduct trade activities in a civilized and polite manner. Furthermore, the market security force has imposed administrative fines on violators and suspended their operations at the market following solicitation and harassment of clients.
In addition, the market management board also encourged stallholders to move from in-person to online sales, accept non-cash options in transactions, promote their online stores by using ecommerce marketing tools, and use Viettel Post shipping services to offer delivery services to their customers.
Mr. Nguyen Trung Thanh, the Head of the Han Market Management Board remarked that that this year marks the ninth year of the Han Market that has been recoginised as the city-level civilized and polite destination for tourists. Moverover, the market management board regularly ask stallholders to create a beautiful arrangement on their store shelves, only sell clear- origin products that use QR codes. Heed is paid to open training course on customer service knowledge and attitudes for stallholders, and encourge them to learn foreign languages ​​to better serve international tourists.
Currently, sellers operating at the Han Market accept non-cash options in transactions. The Han Market Management Board has worked with the Viettel Military Industry and Telecoms Group (Viettel) to faciliate stallholders to sell and promote their products through the Viettel-designed website, Da Nang's e-commerce websites, Lazada, and Viettel 's fanpage. The Han Market is now home to 800 stallholders who are offering such tourism products and services as souvenirs, food, seafood and tailoring services.
The Han Market has seen an increase of 30% in the number of shoppers compared to the times of the COVID-19 pandemic in 2020 and 2021. At weekends, the market attracts about 1,000 visitors each day while the figure stood at 6,000 to 10,000 visitors per day before the pandemic.
Due to the rapid growth of e-commerce in recent years, traditional markets have seen a significant drop in the number of shoppers as the majority of young people prefer to shop online rather than in-person at a physical store .
In their efforts to meet growing purchase demand from locals and tourists in a modern society, stallholders in traditional markets are focussing on strengthening their customer service skills, and diversify their selling products in an attempt to make traditional markets more attractive to domestic and foreign tourists.
Da Nang boasts huge potential for tourism development as it is now home to four first-class traditional markets with around 5,000 stallholders in total in addition to second- and third-class ones at district, ward and communal levels. Therefore, special attention is given to upgrading old traditional markets but preserving their own identities in order to attract more tourists to enjoy shopping and explore local culture.
Reporting by DOAN HAO LUONG – translating by H.L
.