V7 Coffee - small corner of Da Lat in heart of Da Nang
May 13, 2022, 11:34 [GMT+7]
Nestled in the heart of Da Nang, V7 Coffee located at K3/12 Phan Thanh Tai, has become a favourite rendezvous for young people thanks to its rustic, old-fashioned yet romantic style of the 1970s - 1980s.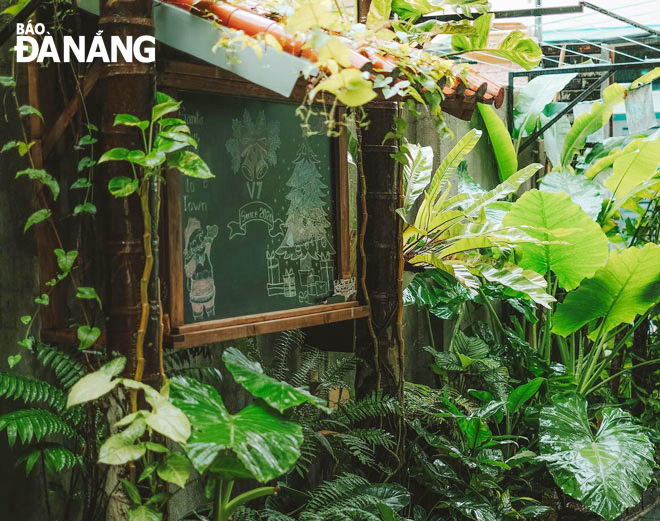 A quiet romantic and poetic corner of the V7 Coffee Photo: T.N
At the entrance to the coffee shop stands a simply-designed wooden gate with a low fence that gives guests a pleasant feeling when they first step into its garden.
The shop also impressed its patrons with an open space with many trees on both sides of the wall, decorated with elegant and cozy old wooden tables and chairs.
Here, customers can chat, sip on their perfectly presented drinks and watching the seemingly never-ending stream of traffic pass by along busy streets as if they were 'lost' in the cafes in Da Lat-the renowned Vietnamese city of flowers.
In the morning, the rays of the morning sun shine down through leaves and the small aquarium in the middle of the garden makes the heart feel fresh.
In the late afternoon, the ancient space with vintage architecture mixed with a bit of the Japanese style makes guests feel like they are returning to their childhood in the 1980s.
Perhaps, this place is much visited by many young people who like taking romantic, poetic photos.
Especially when night falls, the golden lights create a cozy vibe.
On the contrary to the airy and open space outside, the inside is delicately decorated with old items. Not only do all of the wooden cabinets, speakers and faded guitars make the space more nostalgic but they also bring guests a closer and more intimate feeling.
The rudimentary wooden tables and chairs, and yellow lights and small windows together create romantic sitting corners.
In addition to nutritious drinks made from fruit, coffee offered by this venue is always carefully selected with many criteria, especially no mixture with flavorings. Thanks to that, when enjoying coffee here, visitors will smell the characteristic aroma of each type of coffee.
In particular, on rainy days, customers can relax in a corner under the warm yellow light inside the house instead of enjoying the outdoor wind in the yard. Maybe, the smell of coffee, scented candles, a little silence and a few murmurs of rain in the quiet afternoon will melt away so much trouble facing them.
Reporting by TAM NHU – Translating by A.THU
.