Ancient South Korean space in heart of Da Nang
June 11, 2022, 18:01 [GMT+7]
The Incheon Coffee, located at 35 Ly Thuong Kiet, Hai Chau District, a new coffee shop, has emerged as an ideal 'check-in' venue for local people, especially young people who love the land of kimchi.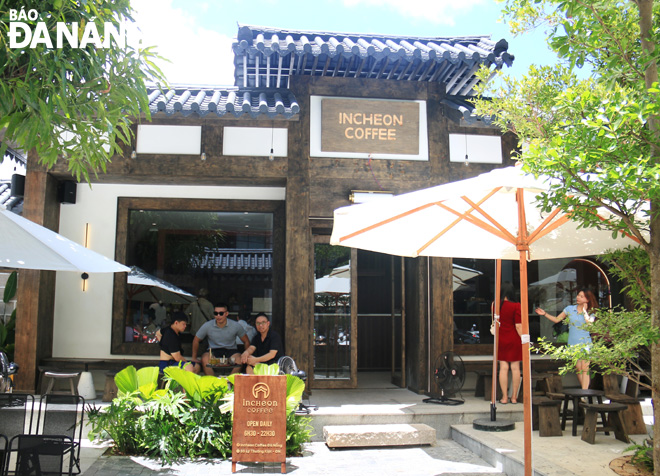 Incheon Coffee space seen from the outside. Photo: NHAT LE
Stepping through the wooden gate, guests may feel as if they were lost in the ancient Choson period with layered tiled roofs combined with ancient architecture.
Outside, the shop is well designed with many photo shooting corners for young people with eye-catching walls and wooden gates combined with the green colour of trees.
Inside, the shop features a modern, harmonious design from colours, materials to minimalist architecture with the main tones: white of the wall color and dark black of wooden furniture.
With a combination of indoor space and spacious garden, Incheon meets a wide range of customers who come here for job affairs, relaxation and meeting with friends.
Every nook and cranny in Incheon can promise its customers beautiful and unique photos.
"The coffee shop is designed in the old style because I and my husband both love Korean historical films", said Ngo Thi Quynh Nhi, 28, the owner of Incheon Opened at the end of April 2022, Incheon has quickly attracted about 500 customers per day and about 800 guests on weekends.
At Incheon, there is a wide range of favourite selections such as salted cheese coffee, toasted almond Italian coffee, salted caramelized Italian coffee, and drinks made from yellow orange raspberries, blueberry cheese, fragrant cantaloupe, strawberry jasmine apricot tea and tangerine jasmine tea with chia seeds.
Another plus point for Incheon is that the shop uses paper straws and cups. According to the owner of Incheon, in the coming time, the shop will develop more South Korean dishes to serve young people in the evening.
The shop also organises light acoustic music programmes every Tuesday and Thursday evening.
"Delicious drinks, standard coffee, and beautiful, spacious and airy space are the criteria that Incheon sets forth with the desire to create satisfaction for customers. Hopefully, Incheon is a new destination much preferred by young Da Nang people", said Quynh Nhi.
Reporting by NHAT LE - Translating by A.THU
.