Nostalgia stirred up with Du Cafe Koi
June 06, 2022, 11:17 [GMT+7]
It is a paradox that we usually spend our whole childhood wishing we would grow up quickly, but we spend all of our adulthood wishing we were children. Perhaps understanding this philosophical meaning, the owner of Du Cafe Koi, nestled at 152 Xo Viet Nghe Tinh, Da Nang, has created nostalgic little corners in the heart of the city to help customers find their own quiet and peaceful moments.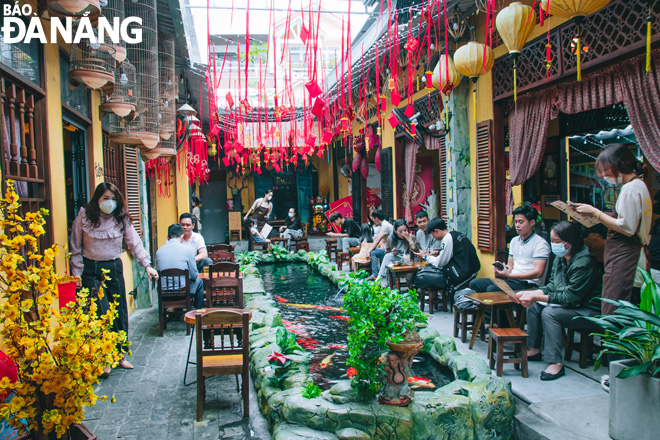 A nostalgic corner of the Du Cafe Koi
Despite the hustle, bustle and sultry outside of the streets when the weather begins to turn hot in the summer, Du Cafe Koi - a green, spacious place full of many flower beds and fish ponds- will help guests feel relaxed.
The venue has a full range of breakfast dishes with rich and unique flavours, along with cool and nutritious drinks.
If cooks send their heart into each bowl of Thai seafood vermicelli, Quang noodles, and Cao Lau ( the foremost traditional food in Hoi An, a mouthwatering bowlful of thick rice-flour noodles, bean sprouts and pork-rind croutons in a light soup) for every morning, drinks here are also meticulously and carefully prepared by the bartender with perfect tastes.
On a summer day, the refreshing fruit juices will add vitamins for health. Apple juice not only has a mild and sweet taste, but also has a cooling effect and ensure beautiful skin. A cup of Oolong tea with lotus seeds helps to purify the liver, bringing a feeling of lightness and relaxation.
In particular, a cup of sweet egg coffee will help you kick start your spirit for a new day. Blended in a creamy, milky blend with the signature aroma of matcha and a crunchy, crunchy coconut topping, this unique drink will fascinate diners right from the tip of the tongue.
Enjoying matcha after breakfast also helps the body to feel comfortable, alert and recharges energy for the whole working day.
Memories are always the thing that people miss the most because they can't be changed, can't be redone. Coming to Du Cafe Koi is also an idea way for us to look back on old memories with a cup of delicious coffee and soft music, as if returning to the happy and innocent childhood years.
Reporting by TAM NHU – Translating by A.THU
.