Reply 1988 - A Korean-style coffee shop in Da Nang
June 30, 2022, 12:40 [GMT+7]
Located at 20 Le Hong Phong, Hai Chau District, Da Nang, Reply 1988 Café is named after the highly popular Korean TV series 'Reply 1988' so it has an impressive Korean style.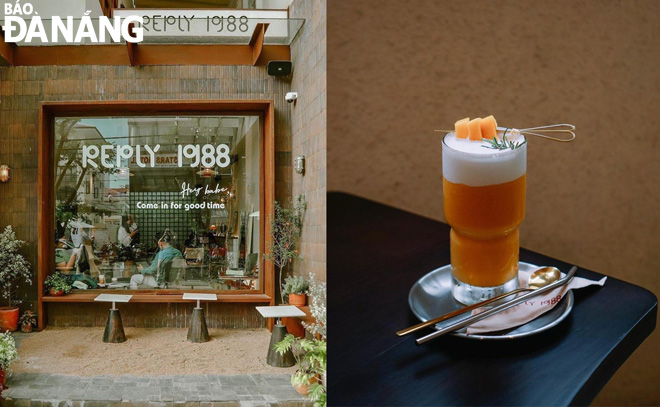 The lovely corner of the Reply 1988 coffee shop
The two-storey coffee shop has an airy design with white and dark brown as its main colours. There are many glass windows that divide the shop into different sections, letting you comfortably chat with your friends while watching the outside world.
The first floor is suitable for a romantic dating thanks to its cozy and warm atmosphere. Meanwhile, boasting a blend of modern and vintage styles, the ground floor is very attractive to families and young people.
The shop features sets of quite simple tables and chairs while wooden platforms are used as tables. Also, there are eye-catching colourful stools. All are meticulously arranged to create a comfortable and gentle space. The most highlight of the shop is a circle formed by a long row of stools.
The shop's spacious and greenery front yard with shrubs and pebbles path is an ideal check-in spot for young people.
Reply 1988 is offering a quite diverse types of drinks at reasonable prices ranging from VND 25,000 to VND 50,000 each.
Besides coffee, tea and smoothies, various types of cake are being served at this shop such as salted egg tart Lava, cheese meat floss or cheese Terina. Notably, Mango Milk-foam made from mangos and dairy ice cream is the most popular drink of the shop, its taste is a combination of sweetness and sourness.
Once in a while, let's put aside your work, pick for yourself a small corner in Reply 1988 to enjoy a drink, read a book or have a chat with your friends.
Reporting by TUONG VY - Translating by HOANG VU
.