Enjoy the green space in the weekend
July 05, 2022, 16:23 [GMT+7]
If you are a nature lover then Doi Xanh coffee shop located at 586 Au Co, Lien Chieu District is an ideal place for you, especially in sweltering summer days. With a lively koi fish pond amid the verdant space, this is a place for you to relax and have a chat with your friends and family.
Right in the first moment you come in Doi Xanh, you will be immersed in the coolness of the pond and the abudance of trees. With a lovely small bridge crossing the pond and the babble as a highlight, the shop becomes a romantic place for taking photos.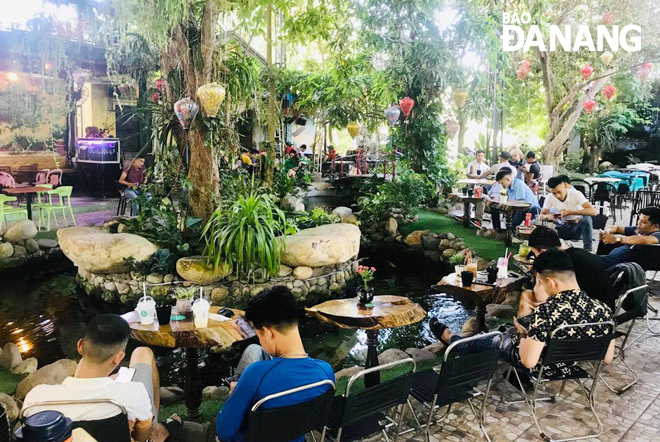 Doi Xanh's green space
The chairs and tables are arranged as in a sidewalk café, most of them are small folding chairs. Customers can enjoy tasty drinks while admiring the koi fish in the crystal clear pond.
The coffee shop features both outside and inside areas with such places as air-conditioning room, garden, and amusement area. The two-storey inside area has the air-conditioning room which is suitable for customers in a wide range of age. They can comfortably have a chat, read books, study or work in team in here.
Under the light of numerous lanterns in the night, the large garden where a diverse number of fruit tree such as mango, plum, star apple are grown creates a romantic atmosphere. The wooden sets of tables and chairs in this garden will give you the feelings of comfort and intimacy.
The coffeeshop is quite crowded in the weekends, with rough estimate of 500 customers in a morning. Many of them are satisfied with the coconut coffee and the thoroughly service.
Doi Xanh coffeeshop has a wide range of drinks such as coffee, milk tea, smoothie, yogurt, juice and are priced at VND 12,000 to VND 40,000. Doi Xanh coffee shop opens from 6:30 am to 9:00 pm daily.
Reported by KHANH HUYEN - Translated by HOANG VU
.