Hoi Ky Mi Gia – The place of memory
July 20, 2022, 17:07 [GMT+7]
Located at 120 Quang Trung, Hai Chau District, Hoi Ky Mi Gia is a great place for such events as class meetings or family gatherings as it boasts both variety of delicious food and a cozy space.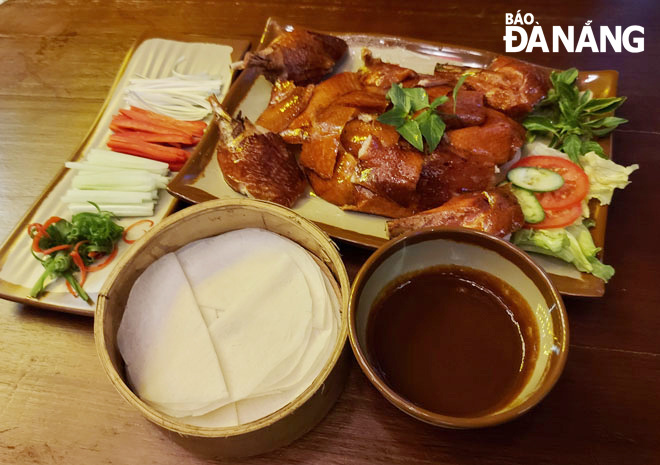 Peking duck with the shiny brown skin enveloping the soft and pungent meat
The restaurant owner hopes to help customers reminisce about good memories of their past through his venue's ancient Chinese architecture and traditional Chinese foods. This original blend gives the restaurant an unique feature, making it a great choice for those who is interested in Chinese culture as well as want to have new experiences with friends and family in the weekend.
When it comes to Chinese cuisine, dim sum is one of the first names that pops up in our mind. The restaurant has more than ten types of dim sum, including shrimp dumpling, oyster and shrimp dumpling, liu sha bao, crab shumai. In its efforts to give its customers various choices, Hoi Ky Mi Gia always adds new foods to its menu and categorize them into such groups as roasting, noodle, dim sum, and broth so customers can easily choose what they like to taste. Especially, the noodles lovers should not miss offal stew noodle, chicken and fish noodle, duck noodle. Another Chinese food that cannot be ignored is Peking duck with the shiny brown skin enveloping the soft and pungent meat.
One strong point of Hoi Ky Mi Gia is foods usually accompanied by rice in a Chinese manner, therefore customers will not only taste delicious food but also satisfy their hunger as their meals at home. The warm light and romantic music here can boost the family's love.
In addition, Hoi Ky Mi Gia always focuses on improving the kitchen staff's skills to satisfy their Vietnamese customers yet not to lose its distinguishing Chinese style. Hoi Ky Mi Gia also has an amusement area for children to play while their parents are enjoying the meal with friends.
Reporting by DOAN LUONG - Translating by HOANG VU
.