Vuon Thanh café - an ideal spot for cloud hunting
August 19, 2022, 17:11 [GMT+7]
Thanks to its convenient position of lying back against the foot of the Hai Van Pass, and facing the Hai Van Gate and Hai Van Bay, the Vuon Thanh café located in Hoa Hiep Bac Ward, Lien Chieu District is emerging as an ideal venue for tourists to admire the breathtaking scenery and hunt clouds in early morning or late afternoon hours.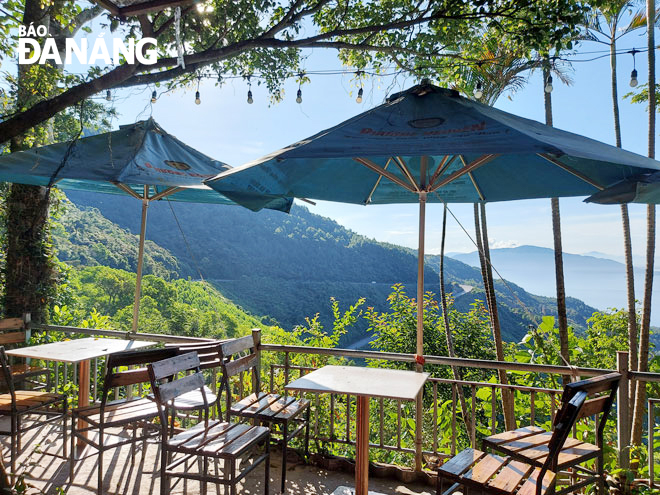 A corner of the Vuon Thanh café
The name of Vuon Thanh means a green garden. Like its name implies, the café is surrounded by rich forests, mountains and landscapes full of scenery and charm.
Also, there are many small-sized reservoirs built to reduce the amount of water flowing from the top of the mountain in the rainy season to prevent rock slides and ensure the safety of vehicles and tourists travelling through the Hai Van Pass.
Thanks to such small-sized reservoirs, the cafe has been emerging as an ideal check-in point in Da Nang for young people.
From here, visitors can sip a cup of coffee while admiring the surrounding scenery, especially the Hai Van Gate which is known as 'the most marvellous wonder' in the world.
Besides, the venue offers breathtaking views of small islands offshore such as the Son Cha Island in Thua Thien Hue Province, the Van Village amidst the immense blue sea, and the Son Tra Peninsula and new and modern coastal urban areas when looking at Da Nang.
Most notably, the Vuon Thanh coffee shop is located in an area adjacent to Thua Thien Hue Province, so guests can enjoy specialties of two localities such as Hue 'banh bot loc' (tapioca dumplings with prawns and pork in banana leaves), Song Nhan 'me xung' (sesame soft candy), Quang Nam-Da Nang baked peanut-coconut cakes, Phuong Tranh peanut cakes, and fish 'banh canh' (rice spaghetti).
Aside from a quite diverse types of drinks, the place is offering various breakfast menu options with instant noodles with shrimps, eggs and sausage at reasonable prices ranging from VND15,000 - VND20,000 per bowl.
Thanks to its convenient location, the Vuon Thanh café is an ideal place for both backpackers to stop when going through the winding pass, as well as for young people to admire the beauty of the Hai Van Gate and listen to historical stories related to this wonder.
Reporting by DOAN LUONG - Translating by M.DUNG
.