Come to Tinh Restaurant to calm your mind
February 13, 2023, 11:15 [GMT+7]
On the occasion of Tet Nguyen Tieu (First Full Moon Festival), many diners came to the Tinh (Calm) Restaurant at 11 Tran Nhat Duat, Tho Quang Ward, Son Tra District, in order to enjoy vegan dishes prepared and served by a chef who has been a vegetarian for many years.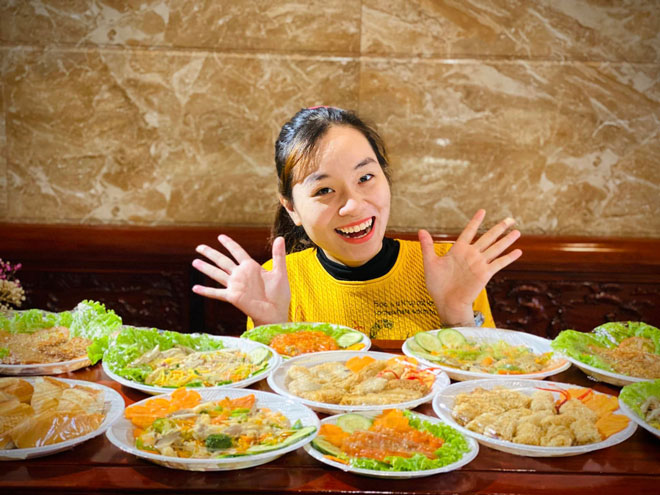 Many young people are excited about vegan dishes at the Tinh Restaurant. Photo: H.L
Ms. Hoang Thi Phuong Thao, the owner of the Tinh Restaurant is a vegan, so each dish prepared here is geared towards the philosophy: quick, compact, simple, and keep the frugal and delicious taste.
With the desire to turn vegetarian dishes into nutritional ones familiar with many families and people of age groups, the venue serves a wide range of delicious dishes, including soup, Quang noodles, 'banh canh' (rice spaghetti), 'bun thai' (Thai-style rice vermicelli), braised beef, fried spring rolls, seaweed mushroom fried rice, 'banh xeo' (crispy Vietnamese sizzling pancake pancakes), grilled mushrooms and hot pot.
In addition, there are such snacks as KFC mushrooms, mango salad, French fries, sweet potatoes mixed with coconut milk, grilled five-fruit skewers, fried corn with butter, and mixed rice paper with an average price of VND20,000-VND30,000 per portion.
Most notably, each dish served at the restaurant has its own special flavor broth. The restaurant's chef does not use monosodium glutamate, onions, garlic, eggs, and many spices.
Visitors to the restaurant will be impressed by its cozy and luxurious space with brick walls, yellow lights and calligraphy painting on brilliant red papers.
The venue is crowded with customers, especially young vegans who come to enjoy food and practice mindfulness, on the first and fifteen days of each lunar month, Tet Nguyen Tieu and Mid-Autumn Festival.
According to Ms. Thao, going vegan helps purify the body from the inside, change the mood, and make your skin smooth, bright and healthy. Vegan food is made from plants, low in spices, helping people to absorb the best nutrition.
Besides, to encourage people to meditate and practice mindfulness, there is a small space in the restaurant dedicated to serve tea ceremony, with perennial teas created by artisan Doan Quang Son - a collector of ceramics passionate about the arts of tea enjoyment and processing.
Occasionally, the Tinh Restaurant serves vegetarian buffet with a menu of dozens of dishes to create freshness and attractiveness for customers.
Reporting by HUYNH LE - Translating by M.DUNG
.