Nha Do Restaurant - idea venue to discover the taste of Vietnamese dishes
March 16, 2023, 20:06 [GMT+7]
Thanks to ingenious recipes with rustic delicacies bearing home flavours, the 'Nha Do' (Red House) Restaurant serving 'com nieu' (rice cooked in clay pot), located at 176 Nguyen Tri Phuong Street, Thanh Khe District, attracts a large number of diners.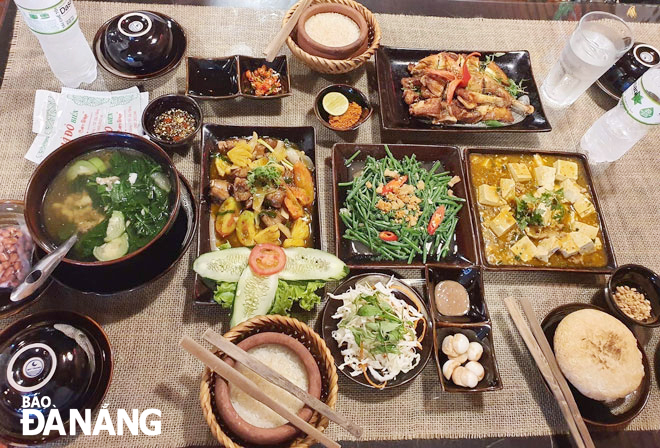 Some Vietnamese-style dishes are being offered at the Nha Do Restaurant
The restaurant recreates the cozy space of ancient Vietnamese families by combining the deep red tones of the earth and the ancient tiled roofs, giving visitors a feeling of both warmth and comfort.
Despite its position of being in the city center, near Da Nang International Airport, the restaurant features a spacious, airy and neatly arranged space.
The venue's menu is quite diverse with such Vietnamese-style dishes as 'ca bong kho to' (goby cooked with fish sauce), 'dau khuon sot ca' (tofu in tomato sauce), 'ca chep om dua' (braised carp with pickles), 'ba chi rim tom kho' (caramelised pork belly with shrimp) and 'canh mong toi nau rieu cua' (crab soup with spinach). Among them, 'ca bong kho to' is the most favourite dish.
Besides Vietnamese-style dishes, the restaurant offers dozens of other dishes with variations from beef, pork, chicken and seafood with many different ways of preparation such as baking, stir-frying and etc.
In particular, the restaurant's chefs seek unique ingredients and foods from the three regions to prepare side dishes.
Visitors to the restaurant will get the best possible service from the friendly staff, and all at reasonable prices ranging from VND50,000 - VND100,000 per dish.
Reporting by KHANH HUYEN - Translating by M.DUNG
.