Indonesia prepares for possible COVID-19 surge, Thailand to reopen to foreign tourists
October 22, 2021, 09:34 [GMT+7]
While the COVID-19 Task Force of Indonesia is preparing strategies to prevent a spike in COVID-19 cases during the year-end holidays, Thailand is to permit fully vaccinated arrivals from low-risk countries to return to its popular destinations.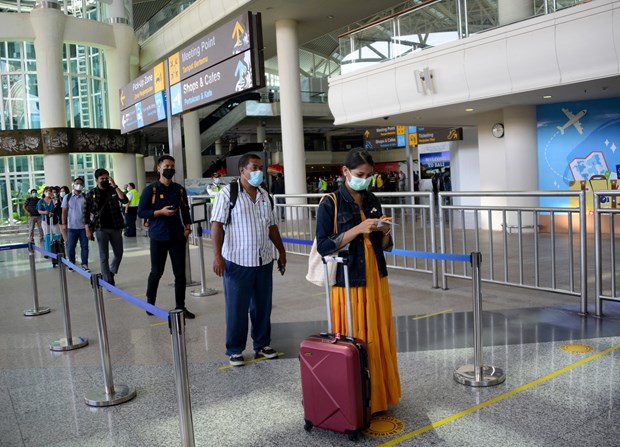 Passengers wait at an international airport on Bali Island of Indonesia on October 14 (Photo: AFP/VNA)
Wiku Adisasmito, spokesman for COVID-19 handling of the Indonesian Government, told a press conference on October 19 that the Indonesian government is mapping out strategies for ministries and sectors to anticipate a spike in cases during year-end holidays.
Holidays during the Christmas and the New Year will increase people's mobility, stirring the fear that COVID-19 cases will surge again during the period, like last year, he said, adding that the government has prepared a number of strategies such as ensuring the easing of public activities but will apply strict regulations.
The government is also seeking to increase the vaccination rate among the elderly, especially in the agglomeration areas (Jakarta, Bogor, Depok, Tangerang, Bekasi, Puncak, and Cianjur) and other centres of economic growth. It is also encouraging the acceleration of vaccinations among children so that their immunity is strengthened during the Christmas and New Year holidays, Adisasmito added.
Another step is to secure the mobility of foreign tourist arrivals to the country.
Tourists who have arrived must meet the conditions such as having been vaccinated and serving the mandatory quarantine.
The government will also strengthen the role of local governments in supervising activities and educating residents about health protocols, according to the official.
In Thailand, authorities will allow vaccinated arrivals from low-risk countries to return to its popular destinations like Pattaya, Chiang Mai and Bangkok from November 1.
Tourism before the pandemic was a leading driver of the economy, accounting for 12 percent of GDP. But the tourism authority has forecast foreign arrivals will drop to just 100,000 this year, down from 40 million in 2019, before the pandemic broke out.
During a visit to Bangkok's Don Muang airport on October 20, Transport Minister Saksiam Chidchob said November 1 is the first step as foreign tourists and investors from at least 10 countries which are in health-safe zones can come to visit the country.
Thailand piloted reopening earlier this year in its resort island of Phuket, allowing fully-vaccinated tourists to skip Thailand's mandatory two-week quarantine provided they remained on the island.
But Saksiam said the wider reopening will be even simpler for travellers as testing on arrival could be done at hotels and other accommodations rather than at the airport.
The entire time a visitor will spend from getting through the terminal gates to leaving the airport will take no more than 25 minutes, he noted.
Source: VNA
.