Singapore: Undersea cable to facilitate power import from Indonesia
October 13, 2021, 17:57 [GMT+7]
Singapore's energy provider SP Group and EDF Group of France said on October 12 that an undersea cable will be developed to import renewable electricity from Indonesia to Singapore.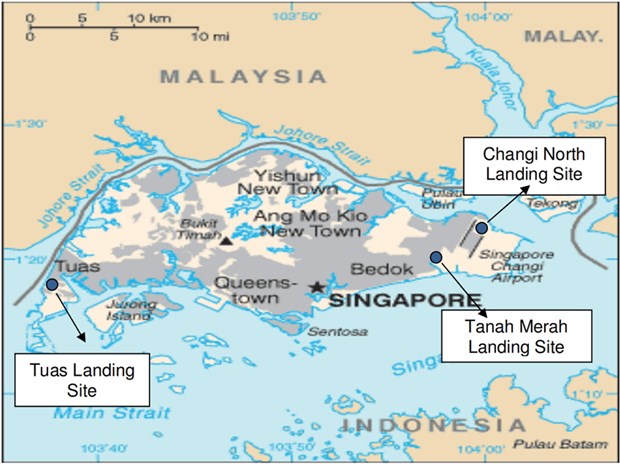 Submarine cable landing sites in Singapore (Source: IMDA)
One day earlier, SP and EDF signed a Memorandum of Understanding (MoU) on cooperation in this project.
Accordingly, EDF Renewables, a subsidiary of EDF Group, will develop this project, which will also include a solar power plant with a maximum capacity of 1000 MW.
The two sides will conduct feasibility studies on commercial and technical issues and regulations for this project. They will also explore more opportunities in expanding connection of the cable route to other clean energy sources in Indonesia.
Currently, more than 95 percent of Singapore's energy now comes from natural gas. The Southeast Asian nation is seeking to meet its growing electricity demand with renewable energy sources, through expanding solar power plants across the country as well as by importing electricity from other countries.
The country also planned to import energy from Australia via a 740-km submarine cable line. Last month, Singapore announced its plan to start importing power from Laos via Thailand and Malaysia.
Source: VNA
.