Viet Nam affirms support for international legal processes at UN General Assembly
October 29, 2021, 17:30 [GMT+7]
Ambassador Pham Hai Anh, Deputy Permanent Representative of Vietnam to the UN, affirmed Vietnam's support for international legal processes, including those at the International Court of Justice (ICJ) while addressing the 76th UN General Assembly's plenary meeting discussing the court's annual report on October 28.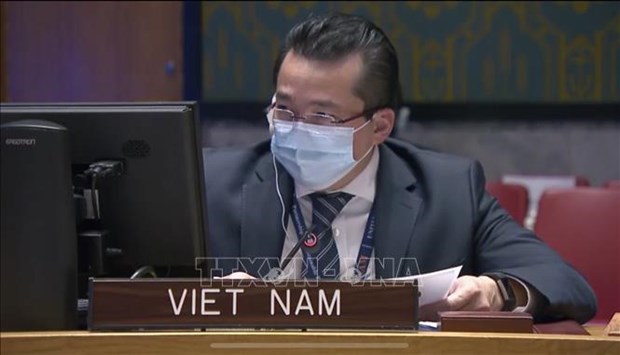 Ambassador Pham Hai Anh, Deputy Permanent Representative of Vietnam to the UN. (Photo: VNA)
Anh emphasised that the peaceful settlement of international disputes is one of the basic principles of international law.
He said that countries can choose from a variety of dispute settlement methods under the provisions of the UN Charter, including the arbitration mechanism, and they have obligations to comply with and implement decisions and judgments of international jurisdiction agencies.
Vietnam has contributed ideas to many legal processes at the ICJ, and hopes that the court will continue supporting the improvement of capacity of countries in using arbitration and jurisdiction mechanisms to resolve disputes.
Regarding the Trust Fund for the Judicial Fellowship Programme of the ICJ, Anh affirmed that Vietnam expects the trust fund will come into operation soon to support law students graduating from developing countries to practice at the court, thus contributing to improving the international legal capacity of these countries.
ICJ President Judge Joan E. Donoghue said the court has been seised of three new contentious cases since August 1, 2020, the starting date of the period covered by the report, and that the court has held hybrid hearings in nine cases and delivered five judgments during the same period. There are currently four cases under deliberation, she added.
Donoghue noted that the court's docket remained full, with 15 contentious cases currently pending before it "involving States from all regions of the world and touching on a wide range of issues, including territorial and maritime delimitation, the status of international watercourses, reparations for internationally wrongful acts, and alleged violations of bilateral and multilateral treaties concerning, among other things, diplomatic relations, the elimination of racial discrimination, the prevention of genocide and the suppression of terrorism financing".
Representatives from more than 60 countries also delivered speeches at the event, in which they affirmed that the ICJ has an important role in the peaceful settlement of disputes through adjudicating cases between states and providing advisory opinions at the request of the UN General Assembly, the UN Security Council and several UN agencies under the provisions of the UN Charter. Through its judicial function, the court has made an important contribution to promoting the observance of the UN Charter and international law, and to sustainable development, peace, security and stability in the world.
Source: VNA
.