Singapore adjusts support for COVID-19 treatment cost, postpones increase of goods-services tax
January 12, 2022, 18:21 [GMT+7]
The Singaporean government has recently adjusted its policy on supporting the treatment of COVID-19 patients.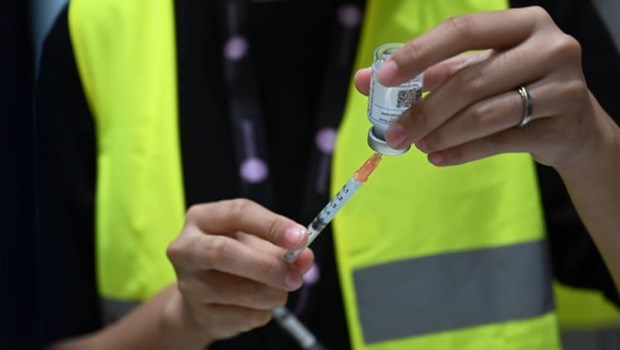 A healthcare worker prepares a dose of the COVID-19 vaccine at a vaccination centre in Singapore on April 21, 2021. (Photo: channelnewsasia.com)
Accordingly, there are two groups of people who will not be fully covered for treatment fees. They include COVID-19 patients aged above 18 who do not get a booster jab within nine months from their last dose and those aged above 12 who remain unvaccinated "by choice".
The adjustment was announced by Parliamentary Secretary for Health Rahayu Mahzam on January 10.
Mahza said there is sufficient evidence that vaccines can help reduce the risk of serious illness and death. Unvaccinated people aged above 12 are fully aware that their decision puts themselves at risk of having to undergo a more expensive course of treatment and increases pressure on the national health system.
Previously, the Singapore Government fully covered the treatment costs for COVID-19 patients who are Singaporeans, permanent residents (PRs) and long-term pass holders if they did not return from overseas travel.
The "special treatment" is applied when COVID-19 has just emerged, aiming to avert the situation where worries about treatment costs increase psychological distress and anxiety in the community, she said.
Rahayu also noted that although the COVID-19 medical bills for the above-mentioned two groups of people are not fully covered under the new regulations, they can still seek support from normal health care packages if eligible.
The same day, speaking at the Singapore parliament, Second Minister for Finance Indranne Rajah said that the government has not yet determined the exact timing of raising the Goods and Services Tax (GST) by 2 percent, saying this is a government's support measure to help minimise the impact on households.
Before the occurrence of the COVID-19 pandemic, the government had affirmed that the application of the GST hike would depend on the economic situation, the spending and the tax rate at that time, she said, adding that the Government is carefully considering overall economic conditions to determine the exact timing of the increase.
The plan to raise the GST by two percentage points, from 7 percent to 9 percent, was first announced in 2018 during then-Finance Minister Heng Swee Keat's Budget speech. At the time, he said that the hike would take place sometime from 2021 to 2025.
Source: VNA
.