Singapore records no serious side effects from COVID-19 vaccines among children
January 20, 2022, 09:45 [GMT+7]
No serious suspected adverse effects associated with COVID-19 vaccines have been reported among children aged between 5-11 years since the vaccination roll-out began at the end of last year, said the Health Sciences Authority (HSA) of Singapore.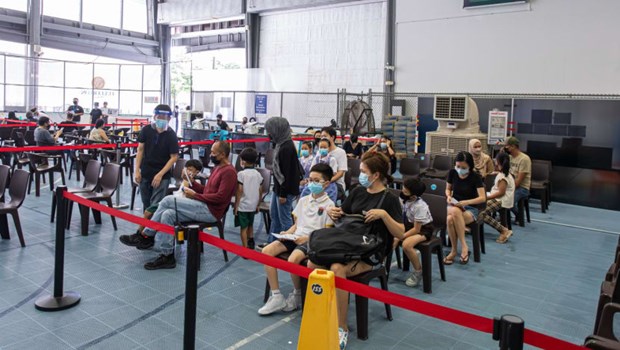 Families with children prepare to receive their COVID-19 vaccination at Our Tampines Hub vaccination centre. (Photo: MSF)
It has received reports of non-serious side effects such as hives, dizziness, fever and shortness of breath in that age group, it added in a safety update on January 19.
Since the COVID-19 vaccination programme was rolled out for children aged 5-11 on December 27 last year, six non-serious reports have been logged for this age group, equivalent to 0.03 percent out of 20,327 administered doses.
HSA received 1,170 side effect reports associated with the use of mRNA vaccines in adolescents aged 12-18, out of 663,239 administered doses. This makes up 0.18 percent of doses administered.
HSA added that over 11.49 million doses of Pfizer-BioNTech/Comirnaty and Moderna/Spikevax mRNA vaccines were administered between December 30, 2020 and December 31 last year, out of which 14,729 suspected side effect reports were received. Among those reports, 747 were classified as serious side effects, 0.007 percent of doses administered.
There are currently no reports of anaphylaxis from the booster doses.
Source: VNA
.