Thailand to lift on-arrival COVID-19 tests from May
April 25, 2022, 09:39 [GMT+7]
Thailand will remove its Test & Go travel scheme for foreign arrivals and RT-PCR testing upon arrival from the end of this month as vaccinated travellers will only need to take self-antigen tests during their stay from May 1 as part of a further easing of entry rules to boost the economy and tourism.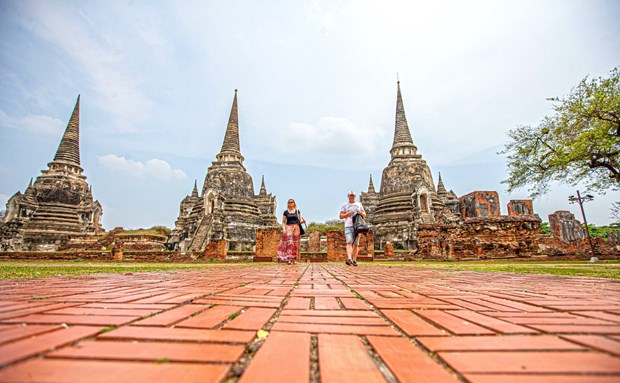 Visitors to the Ayutthaya Historical Park in Ayutthaya province of Thailand. (Photo: Xinhua/VNA)
However, the Thailand Pass registration will be retained. The change was approved at a meeting of the Centre for COVID-19 Situation Administration (CCSA) on April 22 under the chair of Prime Minister Prayut Chan-o-cha.
Vaccinated visitors will not be tested for COVID-19 upon arrival anymore. It will be recommended they self-test using antigen kits during their stay. Vaccinated travellers must register for entry via Thailand Pass and present proof of vaccination.
If they test positive, they could enter their COVID-19 insurance process or take care of their own treatment. Unvaccinated travellers will be welcomed if they present proof of a negative RT-PCR test no more than 72 hours before their trip and register via Thailand Pass.
They will be quarantined for five days, with another RT-PCR test on day 4-5. They will also be advised to do self-antigen testing during their stay.
High-risk visitors will be quarantined for five days. The minimum COVID-19 insurance coverage for all foreign arrivals will be 10,000 USD.
For arrivals by land, foreign visitors who intend to stay no longer than three days must be fully vaccinated and pass self-antigen tests.
Otherwise, they cannot enter the country. For visitors who intend to stay longer, fully vaccinated travellers will not be quarantined if they pass antigen tests, while those who are unvaccinated would be quarantined for five days.
Prayut said the government will consider the possibility of the "Two Countries, One Destination" project to promote tourism between Thailand and other countries.
With the easing of travel regulations, he confirmed that Thailand will fully reopen to foreign visitors from May 1.
Source: VNA
.