Former Indonesian President tells story about President Ho Chi Minh
May 17, 2022, 16:51 [GMT+7]
Megawati Sukarnoputri, Chairperson of the Indonesian Democratic Party of Struggle (PDI-P), former Indonesian President and daughter of the country's founder Sukarno, has repeatedly told a story about President Ho Chi Minh in his meeting with her father on February 27, 1959, as part of his historic visit to Indonesia.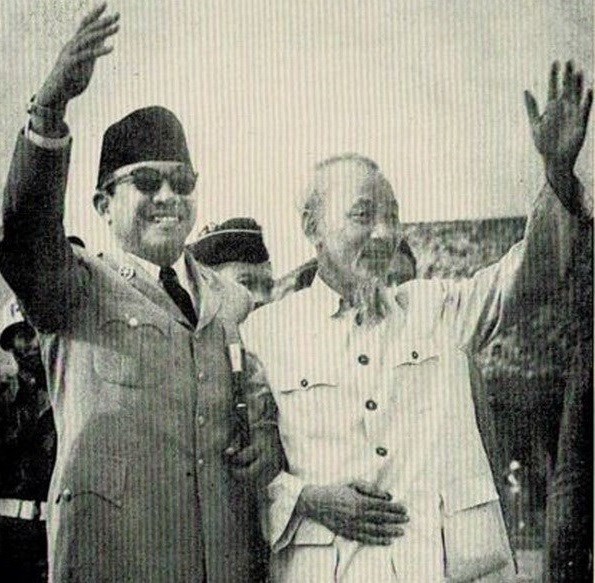 President Ho Chi Minh (R) and Indonesian President Sukarno - File photo (Source: VTC)
Megawati said she was impressed when seeing the Vietnamese President wearing sandals instead of shoes in this meeting as well as knowing the meaning behind. Questioned about this, President Ho Chi Minh answered: "Later, when the struggle (of Viet Nam) wins, I will put on shoes."
According to her, President Ho Chi Minh's simple answer demonstrated his confidence in Viet Nam's independence.
In office from July 23, 2001 to October 20, 2004, the first female President of Indonesia visited Viet Nam twice, in August 2001 and June 2003.

In Indonesia, Viet Nam's national liberation hero and world cultural celebrity Ho Chi Minh, also called "Paman Ho" (Uncle Ho) by Indonesians, is often mentioned as the person who laid the foundation for the friendship between the two countries over the past 65 years.
In addition, his morality and simple lifestyle have been respected by many local politicians, researchers, media and people.

His birthday (May 19, 1890) is an anniversary celebrated not only inside Viet Nam.
Source: VNA
.