Number of international tourist arrivals to Cambodia skyrocket
May 24, 2023, 10:57 [GMT+7]
Cambodia attracted 1.29 million international visitors in the first quarter of 2023, an increase of 709% over the same period last year, according to the Ministry of Tourism's report released on May 23.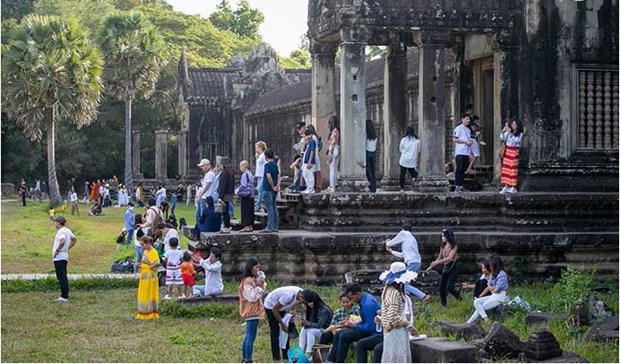 The number of international tourist arrivals to Cambodia skyrocket. (Photo: khmertimeskh.com)
Thailand topped the chart among the international arrivals to the neighbouring nation during the period, followed by Vietnam and China.
Accordingly, 424,241 Thais, 207,527 Vietnamese, and 132,665 Chinese visited Cambodia from January to March.
Minister of Tourism Thong Khon said Cambodia is expected to attract more than 4 million international tourists this year after China optimised its anti-COVID-19 strategy and resumed its outbound group tours earlier this year.
He emphasised that China is one of the most important outbound tourism markets for the world, so China's resumption of outbound tourism is very beneficial not only to Cambodia, but also to the whole world.

Earlier, during a working trip to Cambodia from May 4-6 on the occasion of the 32nd Southeast Asian Games (SEA Games 32), Vietnamese Minister of Culture, Sports and Tourism Nguyen Van Hung and Minister of Tourism Thong Khon signed a Memorandum of Understanding (MoU) on tourism cooperation between the countries.
The two sides agreed to bolster the exchange of road tourism, especially self-driving car tourism, by facilitating cross-border tourism while encouraging tourism businesses of the two countries to develop tourism packages, including cultural and heritage tourism, sport tourism and culinary tourism in order to diversify tourism products through sports events, food exhibitions and culinary forums.
Source: VNA
.