Malaysians tend to use solar power in concern of power bills
June 05, 2023, 16:33 [GMT+7]
More Malaysian households and businesses are installing solar photovoltaic (PV) panels in a bid to bring down monthly electricity bills.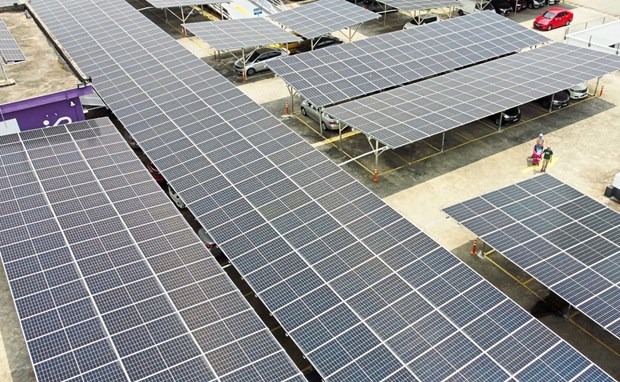 Illustrative image (Photo: https://www.thestar.com.my/)
Gading Kencana Sdn Bhd Group managing director Muhamad Guntor Mansor Tobeng said domestic sales have doubled for his company, with the number of units sold a month increasing from seven to 17.
Concerns over higher electricity bills are driving the migration towards renewable energy, he said, adding that renewable energy is effective and transparent, and produces fast results. The levelised cost of energy for solar is 30% lower than conventional electricity, he noted.
According to the Malaysian Photovoltaic Industry Association (MPIA), the variety and size of service providers in Malaysia mean that installations for companies may vary from one to two residential installations per month to as many within a week.
With the recent announcement on the discontinuation of electricity subsidies for specific consumers, the association anticipate an increase in interest to install more residential PV systems, said its secretary Lionel Yap.
He added that residential users would only see savings from a solar PV system if their monthly bills exceed 400 RM per month (87 USD).
MPIA is also seeing growing interest in PV systems among factories and select businesses, especially "RE100" companies which have committed to sourcing all their electricity from renewable sources.
Ditrolic Energy Group founder and chief executive officer Tham Chee Aun said his firm has also seen an increase in uptake.
Since the removal of subsidies for large commercial and industrial electricity consumers, we have seen a surge in customer enquiry and uptake. Those corporate consumers who have been contemplating the switch to solar for a long time have made up their mind during this period, he said.
In order to encourage people and small and medium-sized enterprises to install solar power panels, the Malaysian Government has provided tax cut for renewable energy and green technology. Meanwhile, banks have also provided loans with low interest rate to companies showing interest in installations. Therefore, the price of solar panels is not more expensive than about 10 years ago.
Source: VNA
.