444,000 EUR solar energy development project launched
Published: November 06, 2017
The official launching ceremony of a project entitled 'Development of Solar Energy in Da Nang (DSED)" recently took place in the city.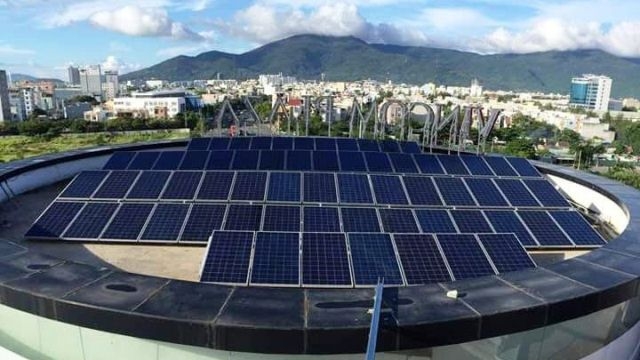 Solar panels installed on the rooftop of a local building (Photo: baotainguyenmoitruong.vn)
Jointly developed by the European Union (EU) and the Da Nang Energy Conservation Centre (DECC), DSED aims at promoting the development of solar energy in Da Nang.
The project is running for 40 months, until October 2020, at a cost of 444,000 EUR. Of this, 393,000 EUR is funded by the EU, whilst the remainder comes from DECC's capital.
Under the large-scale project, solar panels are being installed on the rooftop of selected families and 5 public buildings in the city.
Besides, DECC's existing showroom will be upgraded to allow it to acquire modern equipment to demonstrate how solar photo-voltaic panels produce electricity from capturing free-of-charge energy from the sun, as well as net metering which connects the produced energy with the national distribution grid.
Within the project, the DECC will also cooperate with the Electricity Regulatory Authority of Viet Nam, the Viet Nam Standards and Quality Institute, the World Bank and the German Society for International Cooperation in order to attract more investment inflow into the local solar energy sector.


.