Da Nang tempts domestic tourists back with discounts and exciting events
January 10, 2021, 11:03 [GMT+7]
Numerous entertainment areas and beauty spots in Da Nang have reopened to the public since late December 2020, whilst a series of exciting cultural events are scheduled to take place across the city over the forthcoming Tet holiday, all promising for the positive rebound of the hospitality industry in 2021.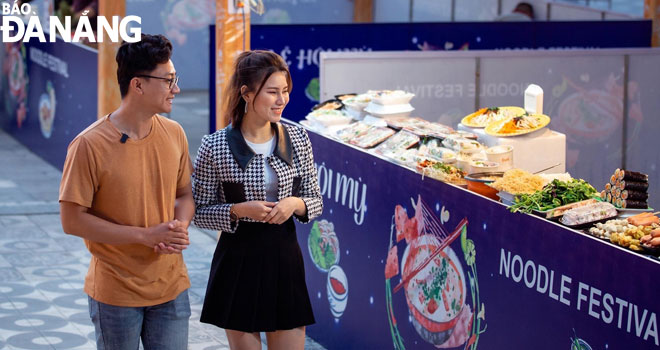 Visitors attending the recent 'Da Nang Welcomes in New Year 2021' Festival at the Asia Park
Officially put into operation on 23 December 2020, the Water Park 365 entertainment complex is one of the most important components of the large-scale Da Nang - Mikazuki Japanese Resorts & Spa project in Hoa Hiep Nam Ward, Lien Chieu District.
The new development is highly inviting to both locals and visitors thanks to its hot spring park and Japanese-style indoor games.
In particular, the integrated water park features many big pools and Onsen service that opens year-round for visitors to immerse themselves into joyful and relaxing moments.
There is an indoor slide pool where visitors can swim all day in the face of unfavorable weather patterns. Also next to the slide pool, a spectacular open-air stage with sparkling lights may catch visitors' heed.
Besides, there are many luxury restaurants, bars, coffee shops next to the pool offering multiple options of food and drinks.
Mr Tran Ba Tuyen, a male traveller from Quang Nam Province remarked that the water park was a really amazing family-friendly vacation spot. Tuyen also sai his children liked large swimming pools and an eye-catching video game area in the water park best, whilst he and his wife expressed their excitement about Onsen service and tasty Japanese-style dishes here.
After the upgrade, the Sun World Danang Wonder (Asia Park) on Phan Dang Luu Street reopened its door to the public on 24 December 2020 with free admission for visitors to enjoy the newly revamped entertainment spaces.
Apart from fascinating arts programmes every night, all food and drink service providers at the Asia Park are offering great deals on their products for all visitors.
In a similar vein, the Nui Than Tai Hot Spring Park has resumed operations since mid-November 2020 with a wide range of great deals on its services for their guests.
Most noticeably, visitors to this highly-inviting tourist site will have the opportunity to experience Vietnamese cultural traditions during Tet at the 3rd 'God of Wealth' Festival which is slated to take place from 13 February (the 2nd day of the 1st lunar month).
The Sun World Ba Na Hills will host an array of fun and exciting events over the forthcoming Tet holiday in an effort to increase domestic visitor numbers, including the European Fair in February.
Additionally, the most favourite check-in destination in Da Nang plans to open a new 4D motion cinema on 30 April, operate its 6th cable car system, and offer new entertainment services.
With food stalls and nighttime music shows, the Helio Centre entertainment complex on 2 September street is expected to satisfy a growing demand for entertainment amongst both local residents and tourists over the upcoming public holiday.
Currently, Da Nang is on course to map out highly effective plans to tempt tourists back amid ongoing 'new normal state' adaptations, with a focus on MICE (Meetings-Incentives-Conferences-Exhibitions), beach tourism, community-based ecotourism, and spiritual tourism, in an effort to ensure the realisation of Viet Nam's national government-mandated dual goal of containing the pandemic in tandem with driving the social-economic operations.
By MAI QUE - Translated by M.D
.