Diversified solutions taken to help Da Nang supporting industries 'fly high and far'
October 05, 2021, 11:50 [GMT+7]
The development of supporting industries is regarded as one of the important solutions to improve the quality of the economy and increase the ability to attract foreign direct investment (FDI) inflows. On that basis, the Da Nang administration has actively implemented a wide range of important solutions to promote the development of this important field.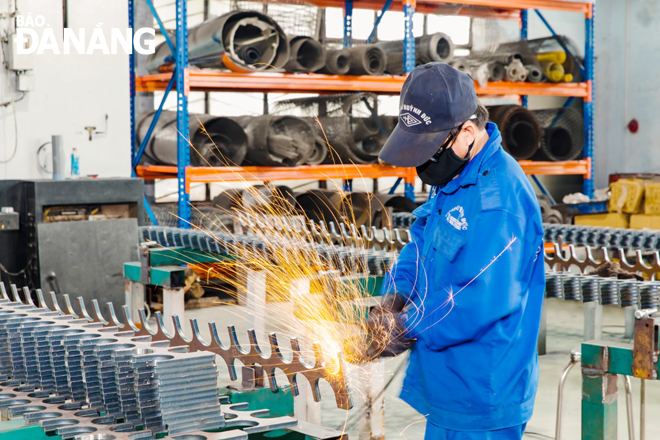 On the basis of the existing macro policies and mechanisms, Da Nang will continue to develop and implement many specific solutions, close to the actual needs of developing supporting industries. Production activities are observed at the Huynh Duc Co., Ltd. Photo: KHANH HOA
Over the past time, the city has come up with many solutions to engage many businesses and investors in developing local supporting industries. Accordingly, many mechanisms and policies with the aim of making industrial sector 'fly high' have been promulgated and put into practice.
Notable amongst them are Decree No. 04/2018/ND-CP of the national government on a number of institutions and special regimes for the Da Nang Hi-Tech Park, the city's supporting industry development policies, industrial promotion strategies, brand development schemes for priority industrial and handicraft products, the provision of support for enterprises in technological innovation.
These above-mentioned supportive moves have initially proved highly effective as a number of enterprises active in the local supporting industries have enjoyed benefits and contributed to promoting the development of industries, including supporting ones in the city.
As a supplier of supporting industrial products for many large enterprises and manufacturing corporations based in Da Nang and other localities, the Huynh Duc Manufacturing, Trading and Service Co., Ltd located in the Expanded Hoa Khanh Industrial Park, Lien Chieu District is one of the firms to have received VND 2 billion worth of support from the Da Nang budget to make investment into machinery and equipment in service for the production of supporting industrial products.
Mr. Nguyen Huu Duc, the company's Director said the above-mentioned financial amount was a useful act of support from the municipal government to recognize the efforts Huynh Duc has exerted during more than 20 years of establishment and development, as well as opened up an opportunity for the company to continue to accelerate the manufacturing industry of precision mechanical products like molds, jigs and such machine parts as bolts, screws and ball bearings, bearings, gears, valves, joints and machine casings with a total annual capacity of 400 tonnes of products.
Thematic report on the development of supporting industries in Da Nang to 2030, with a vision towards 2045 released by the municipal Department of Industry and Trade clearly stated, despite being affected by the complicated COVID-19 lasting nearly 2 years, the development opportunities for supporting industries are still wide open when many large companies and corporations tend to diversify their supply chains in many countries instead of just one as previously.
Of many countries worldwide, Viet Nam is a destination of great interest. Particularly in Da Nang, in addition to preferential mechanisms and policies that have been issued, the infrastructure system of new industrial zones and clusters is nearing completion and all of them are highly expected to be put into operation soon. These are important prerequisites for local supporting industries to develop more outstandingly in the coming time.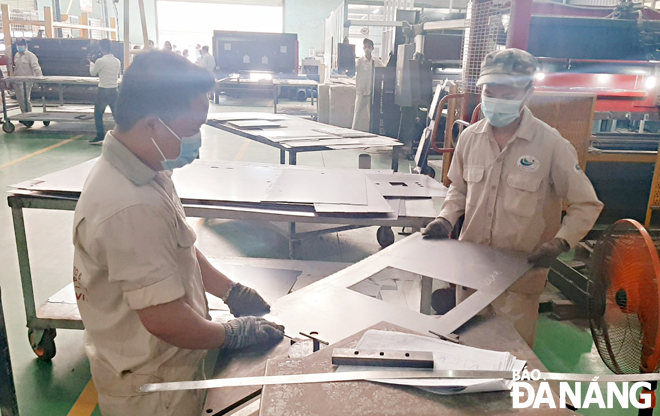 Da Nang will implement many specific solutions to make supporting industries record more development strides in the coming time. Production activities are seen at the Bich Hanh Co., Ltd., in Hoa Vang District, a supplier of electrical cabinets for many businesses in the city. Photo: KHANH HOA
According to Mr. Pham Truong Son, the Head of the Authority of the Da Nang Hi-tech Park and Industrial Zones (DHPIZA), competent local agencies are speeding up the progress of the Supporting Industrial Zone serving the Da Nang Hi-Tech Park.
Once fully operational, the Supporting Industrial Zone is highly expected to drive the development of support industries, provide ancillary services for the Hi-tech Park, create a close link amongst businesses operating here, attract more foreign investment, and transfer advanced and modern technology and production skills through cooperation between domestic and foreign enterprises involved support industries.
According to the Import-Export Management Office under the Department of Industry and Trade, on the basis of the existing macro policies and mechanisms, the city will continue to develop many specific solutions, close to the local supporting industries' actual development needs.
Focus is place on building a database system, digitizing data on enterprises and human resources in supporting industries, information on industrial zones and clusters of supporting industries.
The city will also propose the national government to promulgate the pilot implementation of specific supportive policies for enterprises active in supporting industries in the Supporting Industrial Zone of the Hi-Tech Park.
Also, more favourable conditions will be created for industrial production projects to access loans at preferential interest rates from the Da Nang Development and Investment Fund.
The local administration is mulling over the release of new policies to attract investment, especially from domestic and foreign multinational corporations and companies, large-scale FDI projects.
Also, assistance will be provided for innovative start-ups operating in supporting industries so that they can participate in trade promotion, supply and demand matching programmes.
Regarding supporting industry development orientations, Da Nang eyes to promote supporting industries serving priority industries such as hi-tech industry, electronics - telecommunications, manufacturing - assembling umbrellas – auto and key mechanics. As for products, priority is given to the development of products in service for the manufacture of components, spare parts, materials, specialised supporting equipment, software and essential services to meet the needs of supporting industrial products amongst various priority industries.
In line with Resolution No 01-NQ/TU from the Da Nang Party Committee, supporting industry enterprises will increase in number by 2030 and be capable of producing highly-competitive products, focusing on spare parts, software, and key services in support of priority industries. Da Nang will also attract multi-national groups to guide and facilitate technology transfer.
By 2025, Da Nang expects to have over 150 supporting enterprises, with at least 10 percent of domestic supporting enterprises being able to supply products to manufacturers. The value of the supporting industry will make up around 30 percent of added valued in the manufacturing and processing sector. At least one multi-national group or company is to invest in manufacturing end products.
Of the more than 300 supporting enterprises to be in business by 2030, at least 15 percent are to be able to directly supply products to manufacturers and assemblers. The value of the supporting industry will account for nearly 40 percent of added value in the manufacturing and processing sector and at least one multi-national group or company will invest in manufacturing end products.
Reporting by KHANH HOA – Translating by A.T
.